There is a reason a retailer's shipping or delivery method is called "the last mile". It's easily one of the most challenging and complicated parts of the logistical and supply chain process - and one of the most expensive. The Millenial and Gen Z age groups are currently the largest living generations alive today, and by 2029, they will make up 72% of the world's workforce. This makes them the number one focus group for retail leaders spanning the globe. However, people from all generations and age groups have, at some point, shopped online and experienced the various delivery and shipping methods on offer. Now that consumers are used to Amazon's industry-setting standard of same-day delivery and even two-hour delivery in over 2,000 US locations, how willing are shoppers to pay more for fast delivery? How has delivery changed the relationship between consumers and retailers? What could we see take place in the realm of delivery advancements and technology?
Will consumers pay more to get faster shipping methods?



A 2021 report conducted by Omnitracs on consumer behaviour found that 65% of US shoppers are willing to spend more money to receive faster, more reliable delivery. There are three main factors that affect a consumer's decision when choosing between speed vs cost: Their age, the urgency of the delivery and the total cost including delivery. The urgency of the purchase may involve shoppers looking to buy last-minute birthday or festive season gifts or a desirable item that the shopper has been eyeing out for some time. The total cost includes the cost of all items plus delivery. However, it isn't just the concluding number - it's also about the cost of delivery in relation to the cost of the item. For example, if same-day delivery is €10 on an item that only costs €30, consumers will have to weigh out if this additional cost is worth it.
What's notable about the total cost factor is that it is dependent on the first factor: Age. Statista surveyed consumers at the end of 2021 and found that depending on your age group, you're likely to spend a certain percentage of the total order value to get faster delivery. Gen Zer's would pay approximately 5% of the order value, while Boomers (57 - 75) would only pay 2.2%. For example, if an order totaled €100, then Gen Z shoppers are willing to pay €5 and Boomers would pay just over €2.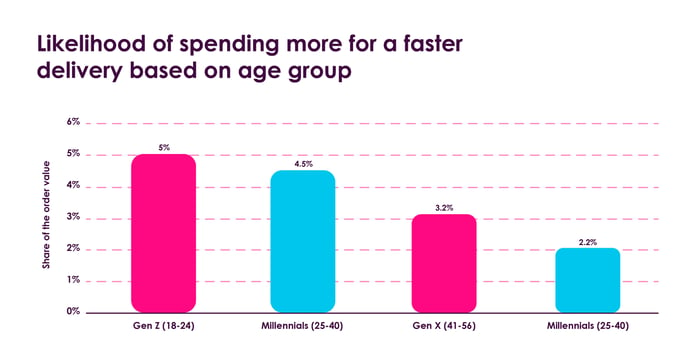 How delivery is changing the relationship between shopper and retailer
Before the e-commerce boom, when it came to getting the goods, consumers did not have a power majority. Shoppers had to physically go to the store to purchase goods, which were determined by the shop's own trading hours. In other words, retailers didn't have to move an inch to get the consumer to come to them. Today, as e-commerce dominates global shopping with desktop web shops and mobile apps, the relationship dynamic has flipped 180 degrees: The consumer has forced the retailer to come to their homes, working shopping into their personal schedules when it suits them, or simply when they're feeling snackish or inspired.
In China alone, revenue for online retail achieved a world-first when it surpassed brick-and-mortar revenue for the first time, accounting for 52.1%. Furthermore, by the end of 2021, 54% of global sales from shopping online came from mobile apps, showing just how much the consumer has changed in the last two decades. So, with the consumer-retailer relationship evolving in such a short amount of time, retailers - from grocers to home furniture - have had to revolutionise their entire logistics and supply chains model to meet the demands of the modern consumer.
When the concept of "delivery to your door" first came on the scene, consumers dealt with 3-4 day wait times, wrong or unfulfilled orders, and returns were a nightmare. However, because consumers were enjoying the convenience of home delivery so much, shoppers did not notice the mishaps and longer waiting periods for deliveries because they had nothing else to compare it to. In 2022, with next-day and same-day delivery being the norm, as well as free shipping options and a more seamless returns system, it is almost inconceivable that consumers ever patiently waited almost a full work week to receive their order. But as delivery options expanded and became more personalised, the demands of consumers grew larger. It was no longer acceptable for a retailer to not offer tracking information on a parcel, omnichannel delivery and/or pick-up options, a returns policy that benefited the consumer, and other features. Having convenience, choice, speed and customization became the crux of the choice consumers had when choosing a retailer to shop from.
Because shopping from the comfort of your home not only became the norm but the law in many countries during the height of the Covid-19 pandemic, consumer behaviour and expectations shaped how retailers would survive or thrive; which has set the tone for the consumer-retailer relationship in 2022 and beyond. According to a Shopify report entitled "Future of Commerce", 75% of consumers said that free shipping had a "very significant influence" and 60% said same-day or next-day delivery had a "significant influence" on their decision to purchase. This ultimately shows the significant power shift between the consumer and the retailer. To put it bluntly, the consumer is saying, "Show me some options I like or I'm going somewhere else." And, in an overwhelmingly saturated and competitive market, they can. How a customer experiences delivery, either online or offline, is viewed as an extension of the retailer and is part of the personal review a customer may have when deciding when or if to shop from a particular retailer again.
The same aforementioned report conducted by Shopify, which includes data from millions of Shopify stores around the world, also concludes that 74% of consumers value transparency and clarity when it comes to a store's delivery/shipping costs and policy. A further 68% would prefer free returns and an estimated delivery time. A great way to handle this is to provide the speed, method, ship time and cost for all of your delivery options. And, notice we said delivery options because in 2022, consumers want choice just as much as they want convenience.
Delivery trends today and going forward
Other than next-day, same-day and two-hour delivery, retailers are finding ways to utilise their brick-and-mortar stores as well as their online channels.
Click-and-collect and BOPIS
Because many brands and retailers have an omnichannel business model, delivery options may include click-and-collect, which is also known as BOPIS (buy online, pick up in-store) or ROPIS (reserve online, pick up in-store). These are ideal for shoppers who have ordered groceries or home goods while at work and plan on picking them up on the way home. Another new delivery method is curbside pick-up, which sees a store employee hand out pre-ordered parcels on the curb to increase convenience for shoppers and turn-around time for orders. These are all in addition to home delivery. Although consumers may not necessarily go for the option that sees them having to jump in their car, just having the option is pleasing to them. Click-and-collect may also refer to a shopper visiting the warehouse for collection as to avoid the wait time for delivery, however, this option needs to be selected before purchase so that the supply chain isn't taken by surprise.
However, the BOPIS method isn't just a strategy to make shopping more seamless for consumers; it is also a way of increasing foot traffic. The Wall Street Journal found that 50% of shoppers opt for BOPIS and 45% of shoppers ultimately buy something else while in store. This successfully blends the demand for omnichannel shipping/delivery methods, and increases the retailer's sales per BOPIS order.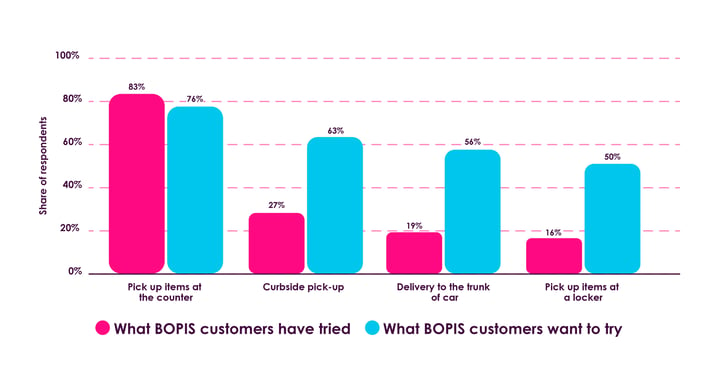 The future of delivery
Consolidation after fast digitalisation is taking place at an alarmingly speedy rate, turning online stores into marketplaces into e-commerce conglomerates. There are many benefits to consolidation for big players, however, smaller businesses will need to seriously weigh out the pros and cons in the face of the company's ethos, mission statement and long-term goals.