Amazon's search algorithm is a sophisticated system that has one goal: connect shoppers with relevant products as quickly as possible.
If you can engineer your way to the top through organic search, it's a free way to improve sales and support brand visibility. And the good news is that this is possible through Search Engine Optimization (SEO). With some work and critical thinking, you can get your listings to appear favorably in Amazon's search results.
This article details everything you need to know about Amazon's search algorithm: how it works, what's important to consider, and how to boost your overall visibility. To learn even more about Amazon, check out our Complete Guide to Selling on Amazon in 2020.
How does Amazon's search algorithm work?
At its core, Amazon's ranking algorithm is similar to Google's search algorithm. It analyzes search queries for keywords, then tries to match customer desires with relevant products. Every day, Amazon tries to find relevant, informative, and trustworthy content to deliver to its customers.
Amazon's relationship with consumers is different than Google's though, and as a self-contained platform it has access to a huge amount of data to use for search engine results.
Amazon A9 ranking algorithm
Designed by A9, a subsidiary company of Amazon, Amazon's search algorithm's sole purpose is to connect shoppers with the product they're looking for in as little time as possible. It's built around the same philosophy as Amazon itself: deliver the best customer experience possible.
Since Amazon's goal is first and foremost to deliver a spectacular customer experience, it analyzes several different pieces of information to determine which products appear at the top of search results. The information the algorithm considers when determining product ranking include:
Keywords: does your listing have the search terms consumers look for?
Sales conversions: do your products sell well?
Customer reviews: are customers happy with your products and service?
Performance history: do you have a record of sustainable sales?
Delivery time: do customers receive their products quickly?
Price: are your products priced competitively?
Amazon's ranking algorithm evaluates a broad amount of criteria to determine who appears on the first page of a search, which is a lucrative place to be. Your products will be seen by more people, and you'll be more likely to win the Buy Box.
How do I find my Amazon ranking?
To find your sales rank, search for the product on Amazon.com, locate your listing, scroll down to the "Product Details" section, and find the information for "Amazon Best Seller's Rank." This number is the ranking of the product in the category in which it is listed.
How do you increase visibility on Amazon?
There are three fundamental parts to your overall strategy that will help increase your visibility on Amazon.
1. Optimize your listings for SEO
Optimizing your listing for keywords is the easiest way to get started increasing your visibility across the marketplace.
One of the main things Amazon considers when deciding which products to display for a search result is keywords. This is for the obvious reason that consumers will type certain keywords into the search bar and want to be connected with relevant products immediately.
You should learn what those keywords are for your products so you can start getting your listings in front of the right consumers.
There are two ways to do keyword research.
The first way to do keyword research is completely free: it's to think logically about what keywords your target market might use to find a product like yours. If you're selling a camera, for example, a logical place might be to start with "camera" or your brand's name.
The second way to do keyword research is more scientific. It involves using tools that tell you exactly what consumers search for in Amazon. These tools, like KeywordTool.io, MerchantWords, Viral Launch, and others can give you detailed information like search volume, frequent words, and related products.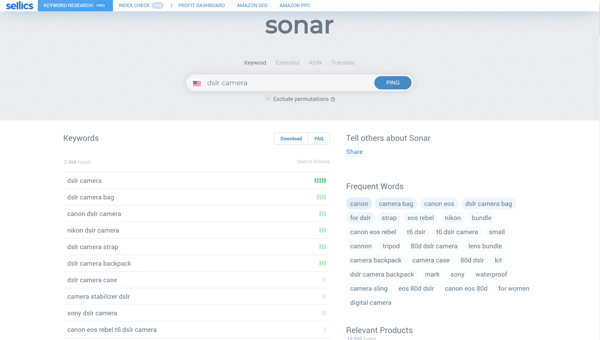 Some keyword tools are free. Some keyword tools have costs associated with them. You'll be able to find one at any price point.
Once you've determined which keywords you want to use, integrate them into your product title and listing in a way that's organic and informative. Don't be spammy though, because it quickly makes consumers suspicious of products.
Keep your writing natural, and user-focused. Always follow best practices for SEO writing.
Take some time to dive into what your target market searches for on the platform, what your competitors do to capture sales, and where there are opportunities for your product to shine.
2. Build better pages for increased sales conversions
Optimization doesn't end with keywords. After driving people to your listing through keyword research, it's time to convince them to buy from you. You can do this by creating better product pages that clearly explain the features and benefits of your product.
One of the variables that the A9 algorithm evaluates when deciding who to list in the top results for a search query is sales conversions. It does this for two reasons.
First, the listings with best sales conversions are the listings that customers seem to deem the best solution to whatever it is they search for.
Second, listings with high sales conversions also make Amazon the most money, whether that's through fees or advertising sales. This gives Amazon even more incentive to push these articles to the top to drive even more sales.
How can I increase my online sales on Amazon?
There are several ways to increase your sales on Amazon. One of the easiest is to make sure your product listings provide enough information for consumers to make informed buying choices.
To do this, evaluate your product description. Does it have keywords tactfully incorporated? Is it interesting to read and compelling? Does it answer questions consumers may have about your products? Make sure that all these components are included in the product description, and add bullet points, if possible.
Additionally, look at the photos in your listing. Are they bright, clear, and inviting? The best photos on Amazon show all the details of a product and how it should be used. You can also include video in your listing to showcase your product even more.
When you create a listing on Amazon, you can add a maximum of eight product photos to the page. You can add more engaging content though by paying for Amazon A+ Content, a service that lets you add more images, video and other multimedia content to your page.
3. Get great reviews
Reviews are another logical way to improve your visibility across the platform (and increase your online sales on Amazon). If you have a high number of reviews, it's a signal to Amazon that people enjoy your product and find it useful. If it's useful for customers, Amazon will favor your product over others.
Reviews help with more than just visibility though. When you get honest reviews, you can learn what customers like about your product or what they don't like about the product, all feedback you can incorporate into the next iteration of your product.
Are Amazon reviews important?
Reviews are important for ranking well in Amazon's search algorithm.
In many cases, they're more important than the actual brand of a product, as Fred Dimyan, CEO of Potoo Solutions (an e-commerce consultancy), explained in an interview with Wired . In the interview he points out the rise of direct-to-consumer or direct-to-Amazon brands like Cali White toothpaste that crush industry giants like Crest and Colgate.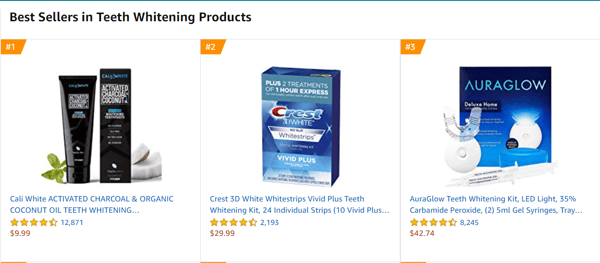 But Amazon's rating system is not as straightforward as it appears. The search algorithm doesn't just take a simple average of the available ratings. Instead, Amazon uses advanced machine learning to look for relevancy of ratings.
It looks at the average star rating, of course, but also considers (among other criteria):
How recently reviews were posted
How frequently people post reviews
Whether the reviews are from "verified" purchasers
The algorithm calculates a star rating based on all this information and displays it on your listing.
Surprisingly though, reviews are not as important as you may think. Skubana analyzed the top 3,000 organically-ranked Amazon pages and found that the number of reviews varied dramatically among top-performers.
The company found that quality of reviews was significantly more important than the quantity of reviews, and that all the top items had overwhelmingly positive reviews regardless of the absolute number of reviews.
The lesson: don't focus your energy on getting a huge number of reviews. Focus instead on getting the best reviews you possibly can by providing a great product experience.
Authenticity
Amazon's A9 algorithm tries to verify the authenticity of reviews. It's easy enough for sellers to hire a clickfarm or freelancers to go and leave false reviews on products to boost visibility. Amazon recognizes this, and tries to prevent it with sophisticated detection methods.
To combat this, Amazon launched the Amazon Vine program where Sellers can give products away for free in exchange for unbiased reviews from verified users. To enroll in this program, you will need to contact Amazon directly.
Amazon SEO is only part of your marketing mix
SEO for Amazon is an incredibly powerful tool in your marketing mix, but if you rely exclusively on SEO, you might be disappointed with your results.
The sad reality is that keywords can only take you so far. The importance of advertisements has skyrocketed in the last three years. Even big brands have increased their Amazon ad spend to stay at the top of search results. Check out our Introduction to Amazon Pricing article for more information on this.
This doesn't mean that SEO isn't a worthy investment. It just means that it's only a part of marketing on amazon.