In 2023, there are approximately 2.64 billion digital buyers, accounting for one-third of the global population; a huge pool of shoppers for e-commerce brands and retailers to sell to. But competition is fierce, and with the average conversion rate sitting at just 1.64%, it's crucial for businesses to do whatever is necessary to get more shoppers to the checkout button.
Having a better understanding of the buyer's journey, and how each online shopper starts their product search, is a key step in boosting conversion and sales. In this article, Omnia breaks down the latest statistics on product searches in the buyer's journey and offers three ways brands and retailers can capitalise on this information.
Breaking down the E-commerce buyer's journey and product search
The buyer's journey framework can be described with a number of stages, but the simplest version has three: Awareness, Consideration, and Decision.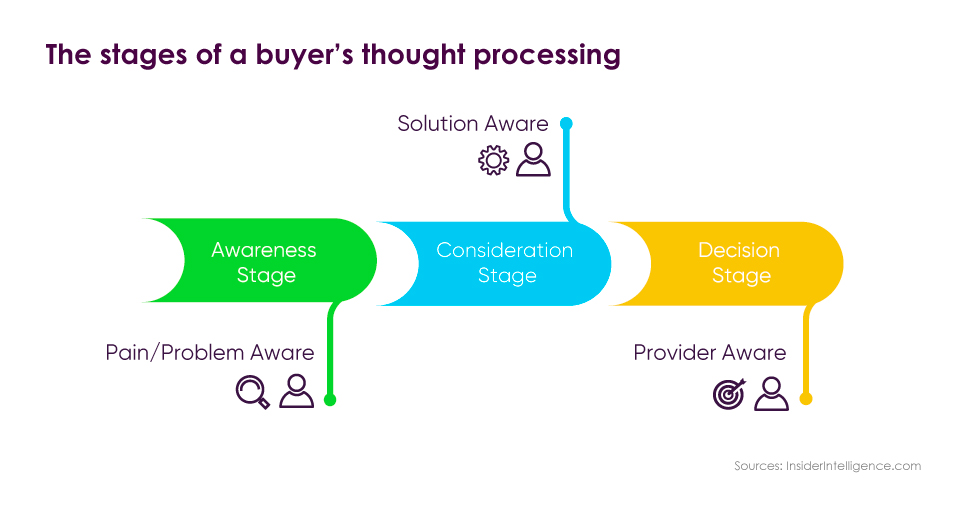 Since we're discussing specifically how consumers carry out their product searches, we'll be focusing on the Consideration stage, where someone is aware of their pain point and is looking for the right solution.
Where do consumers start their product search?

According to research from Jungle Scout, a majority of consumers (56%) in the US start product searches on Amazon in 2023. 42% use search engines and over one-third (37%) use Walmart.com, with the other top sites being social media platforms.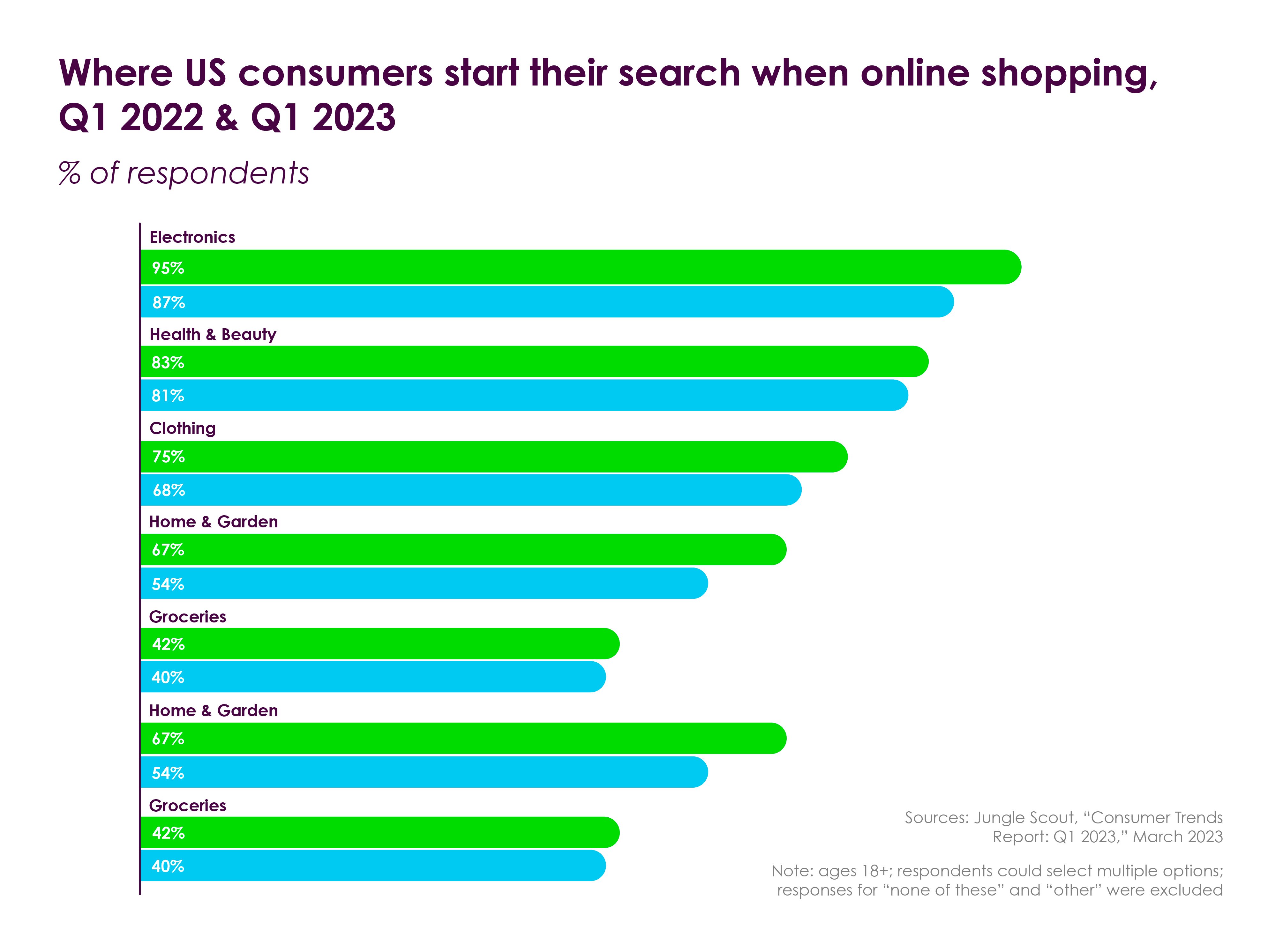 The percentage of US consumers starting product searches on Amazon, search engines and Facebook has decreased since Q1 of 2022; while Walmart.com, YouTube, Instagram and TikTok have grown their share. TikTok is the fastest-growing source for product searches, with about 36% more consumers using the app for this purpose compared to last year. TikTok's user base skews younger, and among Gen Z, 43% are using TikTok to search for products.
Another study of the EU5 (Germany, the UK, France, Italy and Spain) and the US found that 66% of consumers start their product searches for all categories on Amazon rather than on Google or other search engines. Out of this group of countries, the numbers were highest among Italians, with 74% using Amazon as their main prodct search engine; and lowest with the French, where 61% search most on Amazon.
How brands and retailers can capitalise on the E-commerce buyer journey
Looking at the e-commerce buyer's journey statistics above, there are a number of ways brands and retailers can utilise this information to increase sales and use resources more efficiently. Here are a few areas to consider:
1) Traffic and Conversions
The statistics above on where product searches originate is a helpful baseline to see which channels are being used most often by consumers in the "Consideration" stage. Companies should certainly use this information to guide their strategy, but it's also true that the most successful channels may vary by retailer or brand. Each seller should review which channels are bringing the most traffic and which have the highest conversion rate. These should be prioritised when allocating effort and resources for ads and product listings. However, the strategies utilised on the most successful channels can also be imitated on other sites to reach even more potential buyers.
2) Price Elasticity
The channels used by your buyers is a deciding factor in the price elasticity of demand for your products.

For example, if you highly depend on Comparison Shopping Engines (CSEs) like Google Shopping, the price elasticity is higher for a number of reasons: product availability, the at-a-glance comparability of offers and the intention of users coming to CSEs to find the best price. If your customers buy directly through your online shop, price elasticity is less elastic, because the user may already be a fan of the brand and is making decisions between product lines rather than focusing heavily on price.
However, both may be included in your consumer's journey, if they first research on the direct brand channel, then watch for the price just before the buying decision.
3) Assortment and Pricing Strategy
Knowing the importance of the different channels for your business and products, and their price elasticity, should guide your pricing and assortment strategies and how you price versus competitors.
Any brand that has D2C sales needs to differentiate their assortment to avoid competition with their own retailer partners. When assortments are differentiated, such as when certain SKUs are only offered through D2C channels, the lower price elasticity can work in the brand's favour. Our recent blog on differentiating product assortments goes into this topic in more detail.
Meeting customers where they are with an omnichannel experience
EuroCommerce, an organisation representing the retail and wholesale sector in Europe, put out their 2022 European E-commerce Report and included the following quote from Director-General Christel Delberghe:
"The Covid-19 pandemic acted as an accelerator for online sales, as e-commerce quickly responded to the challenges of the Covid pandemic by ensuring continued access to producers and services to consumers. 2021 saw e-commerce sales continuing to grow, albeit at a slower pace as Covid restrictions loosened up. But consumers, many of whom had not gone online before, have seen the utility and convenience of e-commerce, and preliminary results from a study currently being conducted for us expect online sales to make up an average of 30% of retail turnover by 2030.
The consumer journey has completely changed: our customers expect to be able to use various combinations of online and offline interaction. Retailers will have no choice but to invest in making their offering a seamless experience."
Omnia has seen this changing consumer journey in action among the e-commerce retailers and brands we work with. As customers grow to expect a more seamless omnichannel experience, it will become increasingly important to win sales on the platforms where the initial product search begins, whether that be Google, Amazon, TikTok or another site.