Consumers who enjoy shopping from the beauty category have long been used to two main pillars to choose from: Luxury brands like Dior or Yves Saint Laurent, and drug store brands like Revlon, Essence and Catrice which are found in pharmacies. Recently, a third pillar, made up of new-age makeup and skincare companies such as Drunk Elephant or Fenty Skin, has arisen and shown intimidating potential to the status quo within beauty. However, alongside the wave of new beauty brands aiming to disrupt the industry with reformed ingredients and packaging policies, there has also been an increase in the number of famous actors, singers and social media influencers who have released beauty products and skincare lines, overwhelming the industry as a whole. It begs the question of if there is enough space for all of them to thrive. It also takes us to another point: Do we really need another celebrity beauty product? How are these new beauty brands different? And, are long-standing luxury brands affected by the hype about indie brands? Here is a look at how the world of beauty is doing in 2023 and beyond.
The rise of celebrity and "Instagram" beauty brands

For decades, the only association celebrities or supermodels had with makeup or skincare brands was the fact that they were the face of it: Kate Moss for Rimmel; Cindy Crawford for Revlon; or Beyonce for Neutrogena. Nonetheless, there was a defining knowledge amongst consumers that this was not their personal brand but simply an endorsement. Since around 2015, however, the rise of brands created and owned by celebrities include ranges from Kylie Jenner, Rihanna, Selena Gomez, Ariana Grande, Kim Kardashian, Jennifer Lopez, Victoria Beckham, Pharrell Williams, Kate Moss, Scarlett Johansson, Hailey Bieber and now even Brad Pitt and Travis Barker have entered the field.
With a revenue industry expected to be $571 billion in 2023, endorsements and campaigns are no longer what celebrities want - they're more interested in owning a piece of the billion-dollar pie that industry leaders like Kylie Cosmetics, valued at $1.2 billion, and Rihanna's Fenty Beauty, valued at $1.4 billion, have managed to gain. Charlotte Palermino, a qualified esthetician and the co-founder and CEO of Dieux, a US skincare brand founded in 2020 that focuses heavily on sustainable ingredients and packaging, says, "It feels like there is almost no thought to the execution but that the main goal is to simply make money," in reference to the haul of celebrity beauty brands.
This trend has coincided with the growth of platforms like Instagram and TikTok that make for well-oiled machines that directly reach millions of consumers each minute of the day. The Instagram account for Fenty Beauty received more than 45 million engagements (likes, comments, shares) on its posts in the year of 2021 while the account for Kylie Cosmetics received over 64 million. And, remember, this is just one of the many social media platforms that celebrities are using to attract a loyal fan base for growth and revenue. Instead of paying for an expensive TV advert to run during prime time viewing, celebrities simply photograph, film and post from their personal and branded Instagram and TikTok profiles, which is not only essentially free to create but allows the everyday consumer into the lives and beauty routines of the ultra famous. For celebrities, this combination has catapulted their brands into the same stratosphere that long-time brands like Covergirl and L'oreal have existed in for decades in a short period of time.
An Instagram beauty brand is not the same as selling on Instagram
When we talk about Instagram beauty brands, we're not simply referring to brands that are sold on the platform. Beauty has experienced a radical surge in new brands being born out of the Instagram era which means aesthetics, beautiful packaging, and even font selection are vital to the virality of a product. Instagram beauty brands are minimalistic, sleek, and colour-coordinated, with a focus on not trying too hard to impress. In addition, how strategic a brand is with their Instagram feed layout adds to the virality and legitimacy of it. Instagram brands have a larger focus on being photogenic so that consumers will want to follow and mimic their page, and ultimately buy their product. There is also a stronger focus on connecting to consumers on a deeper level by posting user-generated reels and tutorials to show how the product can be used by anyone at home.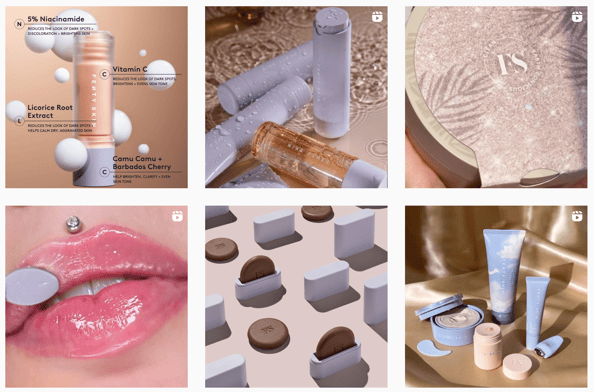 We see here how Fenty Skin, which is part of Fenty Beauty, uses a minimalistic design for the packaging
and sticks to a particular colour scheme in their content strategy.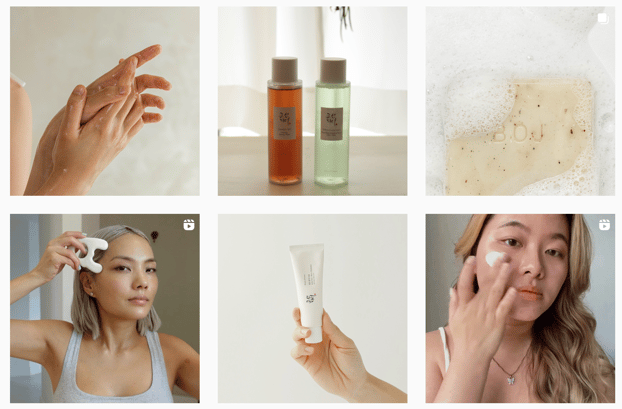 Above is Beauty of Joseon, a Korean beauty brand that gained rapid popularity on Instagram between 2020 - 2022
thanks to its simplistic branding and cleanly-curated feed.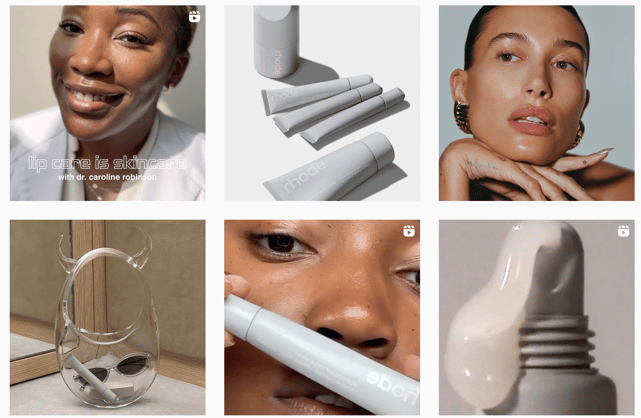 Here we see Rhode, the skincare line from Hailey Bieber, which remains true to the 'Instagram brand' philosophy of
uncluttered packaging, post-worthy selfies and lifestyle shots, a modern font, and a dedicated colour scheme.
What new beauty brands are trying to get right
Clean Beauty
For decades, established beauty powerhouses have made little to no effort to improve their sustainability efforts and to answer questions on their animal testing policies. However, in the last five years, the trend of "clean beauty" has skyrocketed like a bullet out of a gun, forcing older beauty houses to contend with new, indie brands that make clean beauty central to their identity, marketing and long-term strategy. To be clear, clean beauty refers to products that are cruelty-free, vegan, sustainably made, and with ingredients that are safe for you and the environment. Beyond that, clean beauty may involve excluding ingredients like fragrance which can be irritating to the skin, as well as toxic ingredients that may be carcinogenic.
Sustainable Production and Packaging
Outside of the bottle, sustainability within packaging is a large focus for indie brands. However, it's not as simple as ensuring your packaging is plastic-free or recyclable. Indie beauty brand leaders constantly have to walk the tightrope of creating a product that not only does what it claims to do, but remains within a respectable price range for consumers, all while having to factor in the cost of eco-friendly and ethical production processes, delivery, and packaging. Despite these challenges, new-age beauty brands have much stronger policies on eco-conscious packaging, using materials like paper, glass, airless packaging, and aluminium, compared to the global behemoths that have dominated beauty practices for the last century. Sustainability as a core element of a brand's identity has also become essential to consumers, as a THG Ingenuity study shows that 74% of consumers are willing to pay for more for a skincare product that has sustainable packaging.
Direct to consumer
In 2023, the total amount of online sales completed in the beauty and personal care market is estimated to be 27%, and is expected to increase to 33% in 2025. Of that, 63% of online purchases will be done via a smartphone instead of a laptop by the same year. With this growth rate, more consumers are choosing to engage with a brand directly instead of heading to a large beauty retailer. It is no surprise, then, that most new-age beauty brands have started out with a D2C ecommerce-only model before even considering moving to brick-and-mortar retailers. They have bypassed the traditional ways brands would typically get lift-off within a market by recreating the rules for themselves. In this sense, D2C brands can receive first-hand data on what their shoppers like and dislike; they can pick up the pain points of the online shopping journey; and they have full control over their packaging and delivery practices.
Should luxury brands be worried?
Luxury brands have seen fads within beauty before when every celebrity from Britney Spears to Jennifer Lopez had their own fragrance in the early 2000's, however, this trend was premised on a cultural obsession with celebrities, supermodels, tabloids and their lifestyles. In 2023, things are different: Two key factors for a successful beauty or skincare brand are transparency and authenticity. Actor Jared Leto told Vogue Magazine that he "has never been interested in beauty products," and then released a body care line with 12 products. With new celebrity brands popping up at least once a month, consumers end up feeling overwhelmed, confused and frustrated facing a saturated market. As the up-and-down hype of a new celebrity brand comes and goes, consumers will want to turn to something trustworthy and made of quality, and this is where luxury brands have a chance to shine by reaffirming their relationship with consumers.
Regarding indie brands such as Drunk Elephant, Dieux, Glow Recipe and The Ordinary, luxury brands may have to step up their efforts to be more sustainable and transparent about their production processes, who make up their C-Suite, how their packaging is made and more. For the most part, luxury brands have thrived on having an air of mystery and exclusivity about them which may no longer work for younger consumers. The more transparent you are as a brand, the more millennials and Gen Z shoppers, who make up the bulk of the consumer pool, will trust you.