When the concept of retail first began in ancient Greece in 800 BC with traders selling goods and food at markets, merchants needed to keep track of their stock in a similar way retailers do so today. It began with writing things down with a simple book and some ink. A couple thousand years later, that book turned into spreadsheets and tables; and a few decades after that, spreadsheets turned to software and digital systems. As a software creator and provider, it is awe-inspiring to see how far systems and processes that support retailers have come since the days of paper and quills. In a four-part series, we will dive into an overview of both the technical requirements and learnings for retailers and brands looking at investing in pricing software. We will also cover some of the processes our teams drive, from data scraping, sharing potential pricing strategies to the onboarding process.
Let's start at the beginning
The basis for many larger e-commerce businesses is an enterprise resource planning system (ERP) like Oracle, SAP, or Microsoft Dynamics 365. In some cases, a Product Information Management Systems (PIM) and Shopsystem like Shopify are added to this set up. Smaller and medium-sized enterprises (SMEs), especially those that started online first, might only have a Shop-system like Shopify, which can fulfil all the essential tasks in the e-commerce context that an ERP-system does. As the e-commerce market is characterised by high volatility, any online stores, striving to keep up with today's competitiveness, cannot possibly track vital data like stock volumes, sales orders, supply chains or inventory by hand.
Tim Avemarie-Scharmann, Omnia's Head of Knowledge & Scalability says, "While my cheese trader Helmut at the farmers market might be fine using Excel for most of his calculations and data flows, modern businesses, especially in e-commerce, need to integrate advanced systems that perform specific tasks automatically. This applies to your price setting as well, while Helmut can sell his cheese at 4.99€ per 100g, sometimes taking a peek at the prices from a competitor retailer will likely find themselves a much bigger market, and in some cases identifying hundreds of competitors."
Where dynamic pricing fits in
When it comes to new technology and its usage, one of the first questions in people's minds is, "Is it trustworthy?" And, if you transfer this to implementing dynamic pricing software within your business, the question most people have is: "Can I trust those automatically calculated prices?" In representing the overall setup of your business and the integration of a dynamic pricing system, we think of it as a star-shaped figure, where the segments could represent the different external software services a brand is using, and the core of the star is the leading ERP/Shop system or a combination of both. Marketing, logistics, shipping, payment and pricing are just some of the additional services one has to integrate into your data flows. Even though a brand or retailer outsources the application of pricing rules to Omnia, the retailer will be in full control of the prices, as the ERP or Shop system is still at the core of your overall set-up. In a nutshell, the dynamic pricing system will receive input from your Shop/ERP system that is the signal for calculating a new price for a product. The calculation of the new price is based on the parameters that are defined with our Customer Success and Consultancy team, based on the markets and competitors monitored and pricing strategies implemented. Thereafter, the dynamic pricing system will import the new prices back to the Shop/ERP system. This way, the retailer is always in control of their price calculation.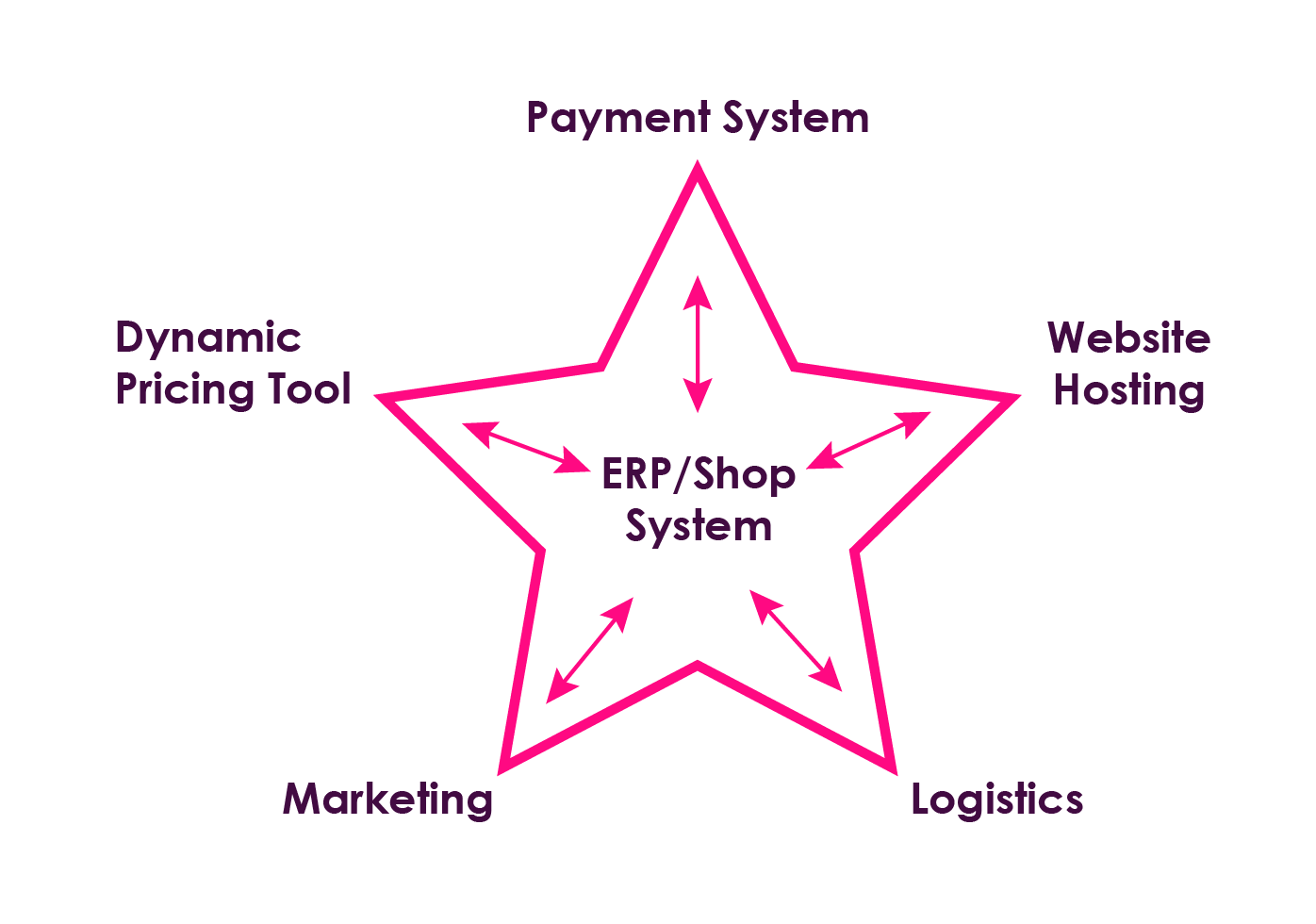 How accessible is this data?
A big part of the technical implementation is establishing a connection between Omnia and the customers' Shop- or ERP-system. While in some cases a one-time, manual upload of a product list is sufficient, for example, if a brand wants to track a stable set of products in the market, some setups do require more flexibility and automation. That is the case for most retailers, where the conditions of selling can change at any time. For this, you need at least one daily data transfer, so all systems are synchronised. This can be done via simple https-feeds or by exchanging data via FTP-servers. Most Shopsystems used in e-commerce provide the option to export data via feeds and do not require coding skills.
Additionally, you need to synchronise the export and import of data via the feeds with other internal processes. For example, when the new prices are calculated at 8am in the morning, you don't want them to be in your systems at only 6pm. For users of Shop- and ERP-systems such as Shopify, Shopware, Plentymarkets, JTL, Magento, we provide plugins, which make the data transfer part much easier. The plugins are designed especially for the case of transferring pricing data to-and-from our Dynamic Pricing Portal, and have pre built-in features that allow a retailer to import price updates only for products where the recommended price actually changed or to only import the price updates for certain product groups, for example, those where you have checked the results and want to make the newly-calculated price recommendation live. These cases can be covered by transferring pricing data via feeds, but with the plugins, they are easier to set up for SMEs who may not have a dedicated pricing department like larger enterprises do.
Data security
Especially for larger enterprises, but essentially for all of Omnia's customers, the question "How trustworthy is the software?" does not only relate to the aspect of how to be in control of the price calculation process which we described above, but also how data is stored and processed. For this, we are currently in the process of becoming ISO 27001 certified and aim to be ready by the end of 2022. This certification ensures that we take many precautionary measures, so that all of Omnia's users receive the highest quality standard when it comes to security and data protection.
A guided process
This may sound overwhelming or time-consuming for a business who is first learning about the importance of pricing software, but the opposite couldn't be more true. Omnia's Customer Success team are involved at every stage of the process, providing knowledge, expertise and guidance during a structured on-boarding process. As this article is the first part of a four-part series, stay posted to our next chapter on how we collect competitor and customer data.
Read now Part 2: How we collect vital data for our customers