Your SaaS scale-up career starts at Omnia Retail
The Omnia traineeship offers a unique opportunity for top international talent to learn everything about SaaS, scale-ups and our products. By participating in 3 different teams with extensive training and coaching Omnia trainees set themselves up perfectly for a flourishing career.
About the traineeship
In the role of Junior Consultant you participate and contribute from day 1. One of the perks of working at a fast paced scale-up is the expectation that you will be involved in co-building the future of our fast growing and constantly evolving company.
A strong foundation will be laid in the first 16 months of the traineeship as you work towards ambitious goals in each of the teams you join. You will be trained on the job by your impressive peers as well as actively coached and mentored by Omnia's experienced managers. After this period, you have gathered the required skills and competencies to further specialize into one position. At Omnia we believe your personal development is paramount. Training and coaching does not stop after this period: Never stop learning is one of our core values and we live up to that value every day.
You will develop into a permanent position through intensive coaching & mentoring by Omnia's experienced managers and by your 'never stop learning' mentality.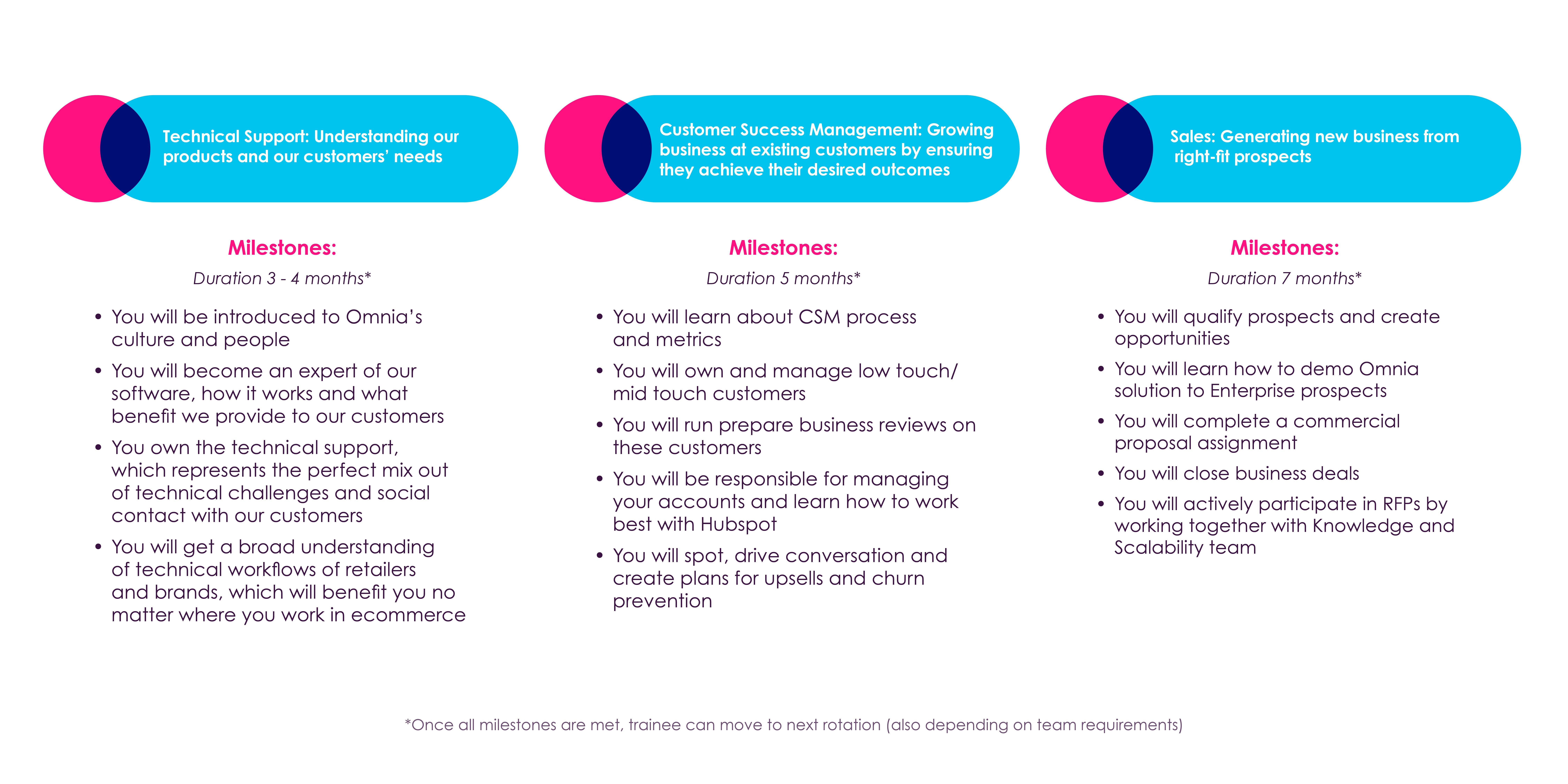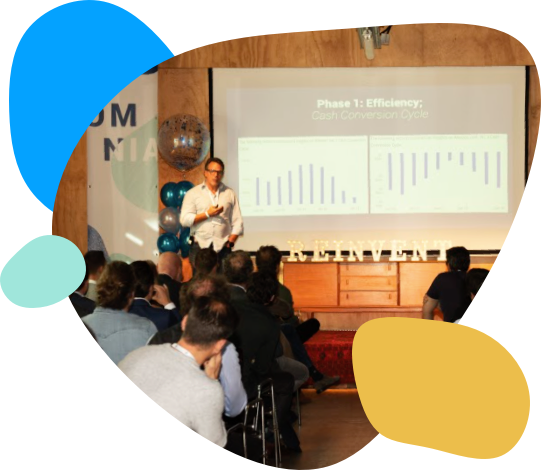 Personal Development
We believe that learning is not just a tool to achieve better results, but learning & growing is one of the things that make life worth living.
'Never stop learning' is one of our core values. Personal development and growth are key at Omnia retail. From the selection procedure and throughout your career: we never grow tired of learning.
The traineeship focuses on building a strong product and domain foundation by participating in 3 teams. Throughout the program you will be coached, mentored and trained on a broad set of skills and competencies by Omnia's experienced managers and through external training. We invest as much energy in the traineeship as you will: self-reflectiveness, resilience and ownership are the traits that will steepen your learning curve.
After completing all interviews, we'll have a good insight into your development needs and will create a matching development plan. On the job, 1:1 coaching, group training, external courses: we will guide you along the way.
You will be assigned a buddy during the traineeship, who also started as a trainee at Omnia. Next to that you will be coached and trained by Omnia's executive team.
APPLY NOW
Skills you'll develop

Teams you will work with

Problem Analysis
Customer Success
Customer Orientation
Sales
Persuasiveness
Product
Business Orientation
Consultancy
Cooperation
Technical support
Verbal & written communication



Skills you'll be taught

Culture you'll thrive in

Consultative selling
Free to be you and me
Process Management
Obsession with excellence
Product knowledge
Never stop learning
Retail & pricing knowledge
Colleagues from around the world
Customer service & relationships
Commercial strategy
Specializations

Customer Success
Customer Success is a philosophy that puts the customer first across all areas of the organization. At Omnia, we have built our entire team around this mindset, and have a service designed to help our customers get the most out of dynamic pricing. Customer success enables our customers to use the software to its full capacity. A Customer Success Manager is more like a coach than anything else: they check in with you, guide you through the process, encourage you to try new things, and support you in your journey. Omnia's Customer Success program is broken into four tiers: Onboarding, Customer Success Management, Knowledge and Strategy, and Customer Support.

Sales
At Omnia we are focused on giving retailers and brands superpowers by democratising expertise and automation. We want to make a big impact on the world and we will only do so if we serve a significant part of global retail. Our Sales Team plays a crucial role in that by making sure we serve more retailers and brands. At Omnia we have a strategic and customer-focused approach to sales. We don't just sell a product, but we match Omnia's proposition to the specific needs of prospects. This requires a significant amount of domain and product knowledge. Also, our Sales Team will only send out commercial proposals when it is convinced it really adds value to the customer and will deliver them a great return on investment. Our account-based marketing track is where sales works closely together with our marketing team in creating insights about the price performance of our target companies. We synchronise sales and marketing outreach to tell a clear story that is inspiring and creates value from the very first moment they get to know about Omnia Retail.
Pricing is crucial for our customers. Because of this Omnia becomes part of their workflow and the investment in Omnia is substantial, typically there is involvement from the highest levels (C-level) in the sales process. Perhaps more so than at any other point in the customer lifecycle. So this is a unique opportunity to get exposure to C-level executives early on in your career.
Since Sales is the most measurable function within the company this function is both very rewarding (very direct link between your effort and your impact on the company) but also high pressure, as your performance is very transparent for everyone in the company.

Technical Support
The technical support represents the perfect mix out of technical challanges and and social contact with our customers.

Covering incoming questions, helping customers configuring their settings and investigating reported issues is only a part of our day 2 day work. You will become an expert in how our software works and develope an understanding of the needs of retailers and brands, which will benefit you no matter where you work in ecommerce

We not only support our customers with our technical knowledge but our co-workers as well. When ever there is a technical related question, we are the first instance to be contacted.

Any question we cannot answer or any issue we cannot solve, we forward to our IT providing all necessary information for a fast processing. Working this closely with our IT gives us lots of insights in how our software is built and functioning. All in all, the technical support is a great department to start off your career in ecommerce. It gives you a great base understanding of our software as a whole and provides you with the necessary tools to rock all departments to come.
Omnia Core Values
Never Stop Learning
At Omnia, we're curious about anything and everything. Whether it's sending you to a conference or buying you a book, at Omnia we actively encourage and support your continued education.
Free to be you and me

As an international company with colleagues from across 5 different continents, Omnia is an international place. This is our strength, and you'll contribute to an open, honest, and supportive environment for all.
An obsession with excellence

Competition pulses through our veins like caffeine, and if you love the hyper-focused feeling that comes with a game, you'll fit right in. We only win when our customers get the best product, so we work every day to achieve that.