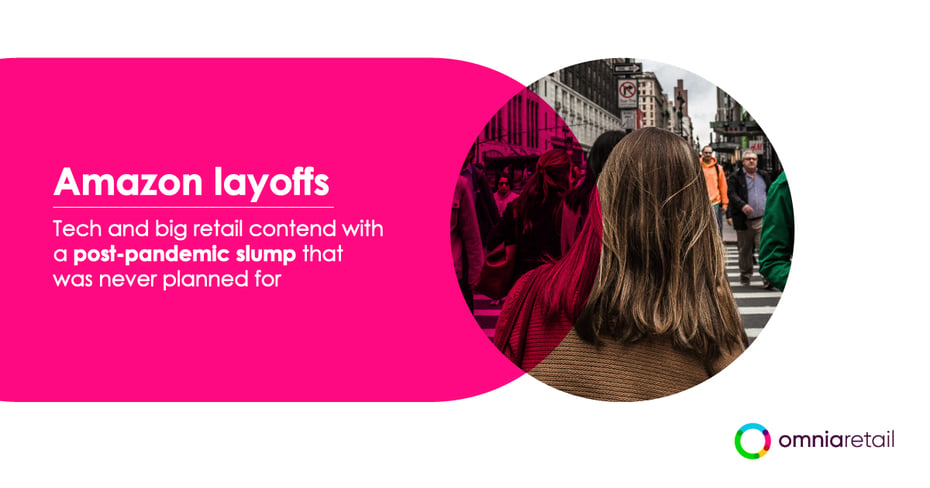 During the peak of Covid-19, businesses around the world experienced the toll of the pandemic with either sky-rocketing growth or heartbreaking closures. The structure of national lockdowns and social restrictions meant that businesses, especially in retail, that had a primarily online business model thrived, gaining in revenue and hiring staff to meet their new demands. By early 2022 in the US, e-commerce transactions, as a whole, increased by 55% during the pandemic, increasing spending by $609 billion. Online businesses, marketplaces and web shops on the receiving end of this were growing exponentially and it seemed like this trend would continue upwards as economies recovered and social restrictions eased.
However, by the end of 2022, reports of successful businesses having to downsize or close became more common, and by the first week of January 2023, e-commerce's biggest name, Amazon, announced 18,000 planned job cuts. It would be the largest in Amazon's history. Leading up to this, Bed Bath & Beyond had been experiencing disappointing sales and layoffs in 2022, culminating in 120 store closures published by the retailer by the second week of 2023. Meta, Facebook and Instagram's parent company, cut 11,000 jobs in November last year, which was the first time the company has had to do so in 18 years. What has caused these closures and layoffs? How did businesses not gauge growth with caution? What can e-commerce stores and D2C brands do to curtail similar outcomes? Omnia looks to answer these questions and more.
Hypergrowth was employed to meet demand

Facebook, TikTok and Instagram are not traditional retailers and they're certainly not brick-and-mortar stores. However, it would be naive for any e-commerce player or marketplace to ignore their growing place in retail. As social commerce leaders, billions are being spent by consumers who are purchasing items directly from these apps as Forbes predicts that social commerce is growing faster than e-commerce to reach a value of $1.2 trillion by 2025.
From 2020 - 2021, Meta platforms experienced more usage than ever as stuck-at-home consumers scrolled endlessly to try to pass the time, with Facebook increasing users by 11.8% from 2019 - 2021 and TikTok by a large 85% in the US in 2020 alone. On Facebook and Instagram combined, global ad spend increased by 50% from 2020 - 2021, with the e-commerce category seeing an ad spend increase by 41%, beauty by 40% and fashion by 95%. More people on the platforms meant more spending was being done through in-app shops which ultimately led D2C brands to hurryingly increase their marketing budget for social commerce. With this snowball of growth, it is no shock to hear that Meta confidently hired 10,000 new employees in 2020 alone to meet heightened demand, only to have to cut 11,000 employees just three years later.
The same can be said for Amazon. By November 2020, the e-commerce giant had hired 427,300 new employees around the world in just 10 months, averaging 1,400 per day. The jump from 2019 to 2020 alone was a 50% increase, seeing positions from warehouse workers to software engineers increasing in their thousands. Fast forward to January 2023 and the departments affected most by the layoffs will be retail operations, devices business and recruitment, as reported by the Wall Street Journal. Other companies like Shopify laid off approximately 1,000 employees in the second half of 2022. Stitch Fix, a personal shopping and styling service, reported this month that 20% of its workforce would be cut after experiencing a boom during the pandemic as more consumers shopped for clothes online, which resulted in a struggle to maintain the same sales growth.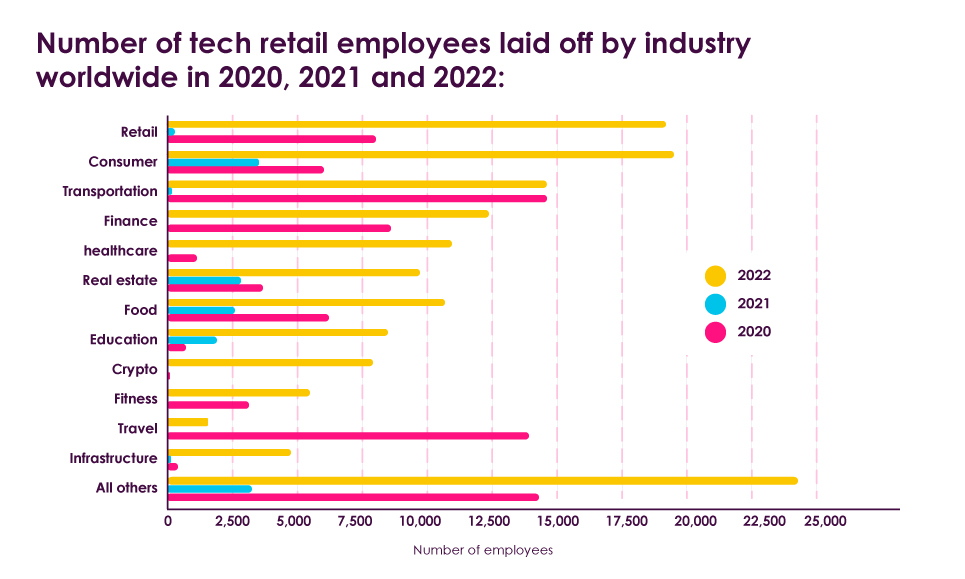 Source: Omnia Retail Data
As depicted by the above graph, we see within "retail" that 2021 only saw 288 layoffs worldwide while 2022 saw 19,311. Within "consumer", 2021 saw only 3,600 job reductions while 2022 saw 19,691.

Optimism and overconfident projections
As this trend moves across retail, e-commerce and tech, it begs the question: There have been many periods of surging growth and demand in the past. Why was growth not gauged with more caution and planning? Was the train moving too fast?

Some could suggest that just as unexpected as the growth and demand within e-commerce in 2020 and 2021 was, so was the impact of global supply chain blockages and soaring inflation. No analyst or economist could've predicted a war between Russia and Ukraine, resulting in the highest food and energy costs in decades. And, no one person could've seen just how versatile the consumer would be in responding to record-high living costs by changing brands or retailers or cutting out certain luxuries. In statements released by their respective CEOs, Facebook and Shopify both said their accelerated approach in 2020-2021 was based on the thought that this trend would simply continue after the pandemic became old news. Stripe, an internet payment processing platform that cut 14% of its workforce in November 2022, attributed the rise and fall to "too much optimism".

Speaking to the Washington Post, analytics firm Insider Intelligence says, "Everyone kind of bought into the myth that e-commerce is going to permanently accelerate. But in order for that to happen, you have to have a fundamental change in behaviour that's going to be sustained into the future. And the reality is e-commerce kind of consistently grows for years and years and years at about 15 percent a year, plus or minus a couple of percentage points."

Attributed to the pandemic recovery and high living costs, another reason retail and e-commerce are feeling the pinch is that consumer behaviour is changing - yet again - to keep up with a changing world. "We've seen consumers just want to be out. They want to be in the stores, they want to shop, they want to touch, they want to try on - that whole experience. And so we've seen the online purchases normalise and pull back from the highs of where they were in 2020," says Wells Fargo Capital Finance.
Layoffs, as an approach to gain back market share
Professor Jeffrey Pfeffer from the Stanford Graduate School of Business shares that layoffs are not a winning strategy to improve company performance, and that there is a plethora of evidence that shows this. "The tech industry layoffs are basically an instance of social contagion, in which companies imitate what others are doing. If you look for reasons for why companies do layoffs, the reason is that everybody else is doing it," he says. Although Prof. Pfeffer agrees that Facebook and Amazon did indeed overhire and that there was a "bubble in valuations", layoffs as a solution don't increase productivity or stock prices, and are often the result of "an ineffective strategy, a loss of market share, or too little revenue".
Here are some ways in which retail leaders can avoid layoffs while still providing relief to expenses:
Consider implementing a company-wide salary decrease of 10% while senior management takes 20%. In this sense, everyone in the company gets a small percentage of the problem instead of a part of the company getting 100% of the problem.




Temporarily postpone bonuses and promotions




Consider furloughing employees instead of outright layoffs




Look at the company's top performers and place them in teams that perform averagely. Studies show that placing a top performer in a team can boost team output between 5-15%.




Offer employees fewer or flexible hours which may result in them earning less, however, they may want to prioritise other areas of life any how
Remain strategically cautious - even when it's easy not to be
The trend of obscene growth followed by unprecedented closures and layoffs is becoming more common as e-commerce and retail navigate an industry - and a consumer - that's always changing. If even the biggest companies in the world are capable of making overprojections, retailers, marketplaces and D2C e-commerce brands should heed the call to remain calm and cautious amongst accelerated growth, even when it is easy to be overconfident about future growth.
Tegan is a Senior Writer and Editor at Omnia and is based out of Cape Town, South Africa. Tegan is a former news journalist who has been published in the Independent on Saturday, The Mercury, The Daily News, The Star and IOL.com. Tegan completed her degree in journalism from Rhodes University and has been publishing since 2011. She has a passion for business and commerce, specifically within e-commerce and retail.