High inflation is here to stay for years to come
Across the world, inflation remains at sky-high levels, with the G20 average Consumer Price Index (CPI) at 9.2% year-on-year for July '22 and the OECD countries at 10.2% year-on-year for the same month. As Roman Steiner, partner at McKinsey's Zurich office, explains, there are five issues contributing to inflation that, together, add up to a perfect storm: labour costs and the availability of talent, as well as rising prices in agriculture, hard commodities, freight, and energy. Contrary to what the heads of Central Banks communicated at the start of the inflationary period, we shouldn't expect inflation to be resolved soon. And, although aggressive interest rate hikes will somewhat help to temper inflation, it will remain a topic that should be top-of-mind at least for the coming years.
Retailers have got the hardest "sell" to make
Inflation typically cascades through the chain. It starts with higher energy and material costs, to higher component costs, to brands increasing the purchase prices retailers have to pay for finished products, to retailers having to try to get consumers to pay more for those products. In this chain, retailers typically have the toughest "sell to make", as sustained high inflation - and particularly the soaring energy costs in many regions - are really driving consumers to actively search for savings and become more choiceful in how they spend their money. As Kevin Bright, McKinsey's Global Leader of Consumer Pricing Practice, notes: "Consumers are substituting one category for another, exiting a category, or shifting to a different brand. There's massive downshifting, particularly from mainstream brands to value brands."
All of this indicates that the concept of price elasticity should be top-of-mind for retailers. On an overall level, it's likely that price elasticity across the board is increasing as many households are in a situation where they have to eat away from their buffers. But we also know that price elasticity varies wildly in between categories, so retailers need to be choiceful in where they try to pass on price increases to consumers and where to take a hit on their margins.
Interestingly, this is the first serious inflationary period where retailers have pricing software available that can help them to effectively and efficiently cope with the high frequency and high volume of changes both in the purchasing side as well as the market side (changes in consumer prices). In the remainder of this article, we will provide some guidelines on how retailers could use the power of pricing software to cope with inflation.
Playing mix when possible
One of the interesting things that typically occur when retailers start with dynamic pricing - and, thereby, are able to reprice their full assortment with high frequency - is that the products in the long-tail start selling better. Because of this, we have seen many cases where, although the retailer decided to price more aggressively, which led to significant revenue growth acceleration, the average margin percentage still grew. While this might sound contradictory at first glance, this is because the high margin long-tail products start selling better and weight more heavily in the mix.
How strong you are in a category will determine how much you can rely on playing mix. If your shop is often the starting point for shoppers searching, you can rely more on playing mix and it can be wise not to move down too aggressively on all products as the shopper will end up buying one of the products in your assortment, anyways.
If, on the other hand, virtually all of the traffic in a category comes from product level out-clicks from comparison shopping engines (and so you don't have a dominant position), you will need to price competitively on each and every product.
Inform yourself on what your key competitors are doing and how they are responding
Most retailers operate in an environment where there are multiple shops offering the same product. Especially in these times where e-commerce has become an integral element in many categories, the competitive landscape has become wide. That means that it pays for retailers to study the behaviour of their key competitors before making major changes to their own strategies. In order to help our customers get a clear overview of key competitors and their positioning on the overlapping assortment, we are about to launch the "competitor overview dashboard".
This dashboard shows the total number of competitors found and automatically surfaces your main competitors based on a "match rate" for the selection of the assortment you have made. The match rate breakdown allows you to quickly identify those competitors that have the biggest overlap with (possibly a subsection of) your own product assortment. This not only enables you to continuously verify your list of key competitors, but also to identify if new players have entered the market that require closer attention. The dashboard then shows the relative price positioning of each of those key competitors, as illustrated in the (anonymised) screenshot below. We advise you to use this screen both to determine your initial inflation response plans, as to verify responses by your competitors after you have made significant pricing strategy changes. Note that this screen enables you to go back in time as well, so you can compare today's positioning with that of a week ago, per see.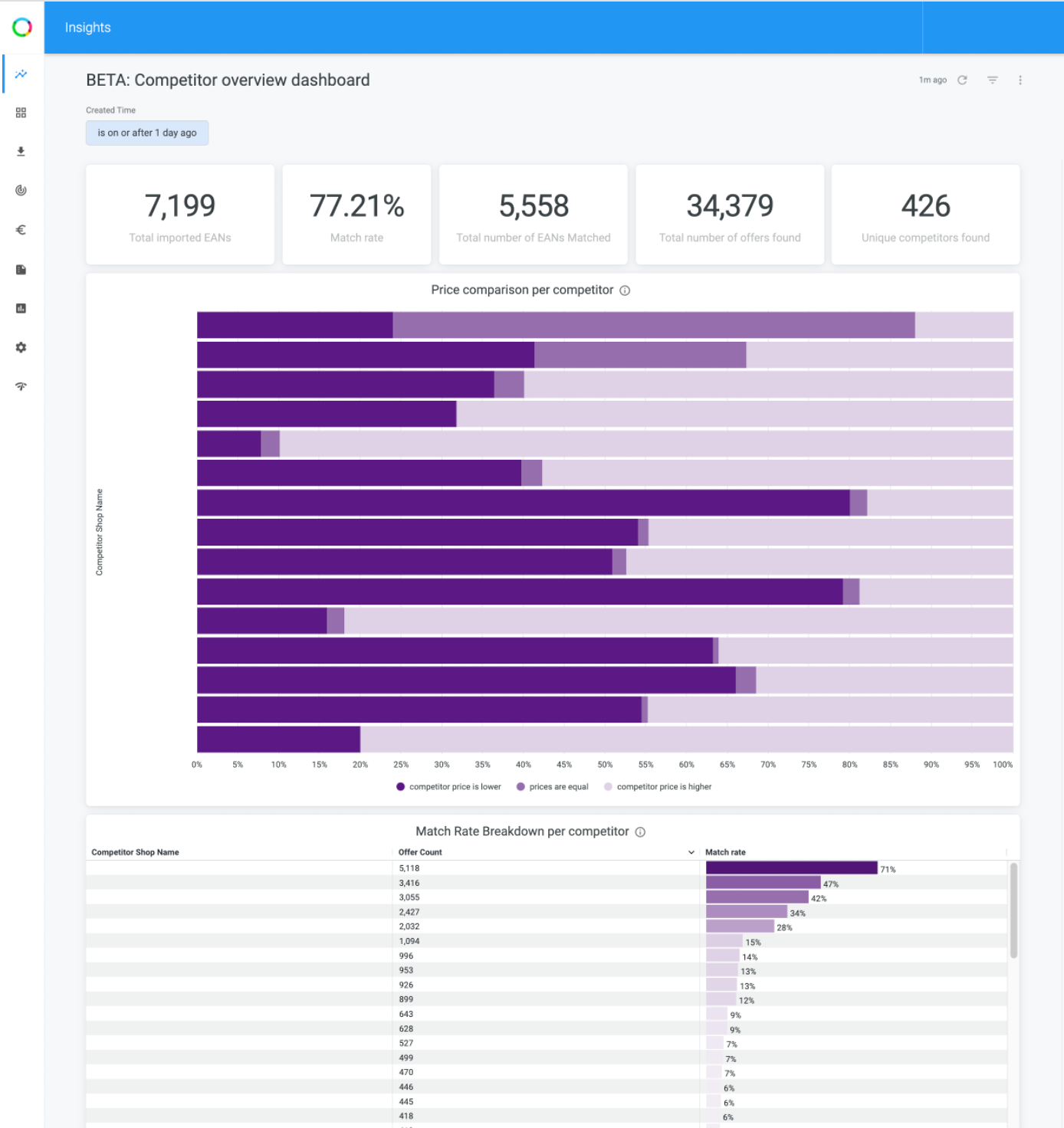 Differentiate in pricing strategies to maximise profit
No matter how successful you will be in passing on price increases to consumers, it's likely that you will have to absorb some of the hit via lower margins in these exceptionally challenging times. Omnia always recommends its customers to be very choiceful in where to be aggressive in pricing, and where to grasp the opportunity to take more margin, but in these inflationary times with margin pressures for all retailers, that matters more than ever. We also believe that this advice not only benefits our customers, but makes the market operate better as a whole. Our recommendation is in-line with what McKinsey advises in their article "Navigating inflation in retail: Six actions for retailers":
"Go granular with pricing and promotion and tailor value delivery to consumers. Instead of implementing broad price increases that may erode customer trust, retailers can tailor their inflationary price response by customer and product segment, considering both margin performance and consumers' willingness to pay. Raising prices is unpleasant for both consumers and retailers. Retailers that take a surgical approach are more likely to emerge with profitability and consumer relationships intact."
There are multiple ways to operationalise this advice. One of the ways is to make use of the price elasticity classification algorithm that the Omnia platform applies to a large set of historical data in order to arrive at an elasticity classification of categories and products. You could then apply a strategy like "lowest price point of this list of five key competitors" in a highly elastic category while applying "most occurring price point in the market" in an inelastic category. The benefit of this approach is that you leverage the power of machine learning in the automated price elasticity classification, while maintaining the control and the explainability of pricing rules.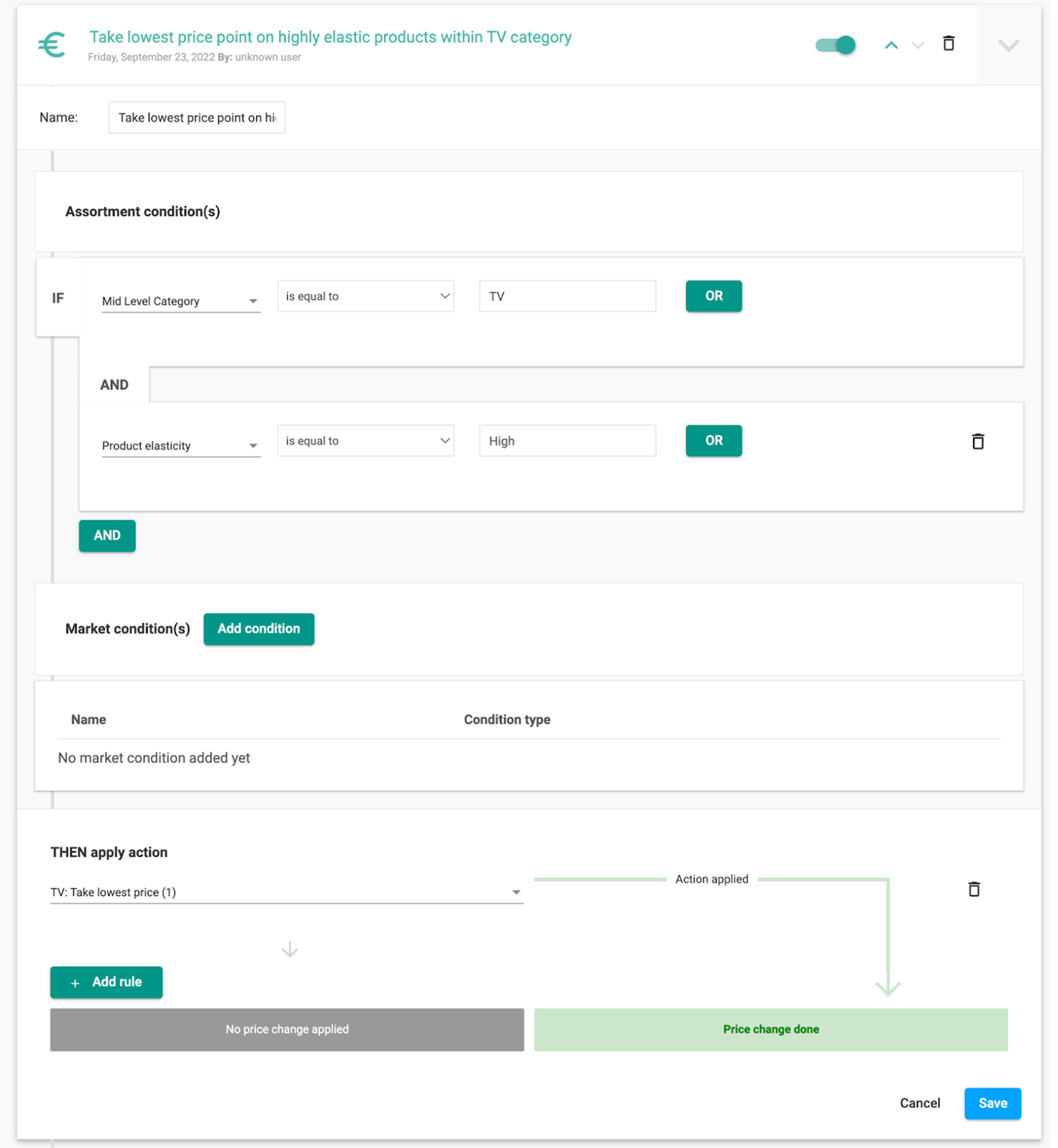 Price elasticity is not the only way to segment your assortment and differentiate more in pricing strategies. You could also identify Key Value Items (KVIs), for example, based on which products are highly viewed. In order to automate this as well, the Omnia platform can be directly connected to the Google Analytics API which allows you to consider views on product details pages (PDPs) in your strategy. That is a way to implement a high-runner strategy.
Both approaches to going more granular will lead to becoming price aggressive on products where it is more important to consumers and it will have more impact on sales volumes and price perception of consumers, and to take more margin on products where price is less of a consideration. From an overall perspective, this is likely to lead to the best combination of the top and bottom line, as well as price perception.
Be prepared to move up
The Omnia software basically enables you to automate any pricing strategy you can think of. Yet, not all pricing strategies are created equally. In these inflationary times where many retailers feel an urge to pass on at least part of the price increase they are confronted with to consumers, it is especially important to apply strategies that enable you to grasp the opportunities of a market that is moving up. To illustrate: when you are applying a pricing strategy as "price position one in the market," it's highly unlikely that you will quickly pick up on the trend of "the market" moving upwards as the chance that there is still a "garage box retailer" selling for a low price is substantial. On the contrary, if you apply a basic strategy like "most occurring price point of a certain list of X key competitors" or a more nuanced "market conditions" based pricing strategy, you are much more likely to pick up on those upwards trends.

Automatically reflect your purchase price increases
Omnia recommends implementing safety rules that prevent you from selling products at a loss (or at too low a margin). Without such rules you might be matching a very deep promotion of another retailer for which that retailer has negotiated back funding from the supplier to (partially) fund such a deep price-off. That would be disastrous for your profitability. By feeding your purchase prices to the Omnia platform, and making sure your pricing strategies end with safety rules as "never go below purchase price + X%", you are realising that purchase price increases have a real-time impact on your pricing. Also, here there are various ways to implement this. You could configure Omnia to simply set the price to the defined minimum boundary. But it is also possible to configure Omnia to not change the price when you are not able to match the price point of a competitor due to minimum margin requirements. That is where, again, the Market Conditions functionality comes into play.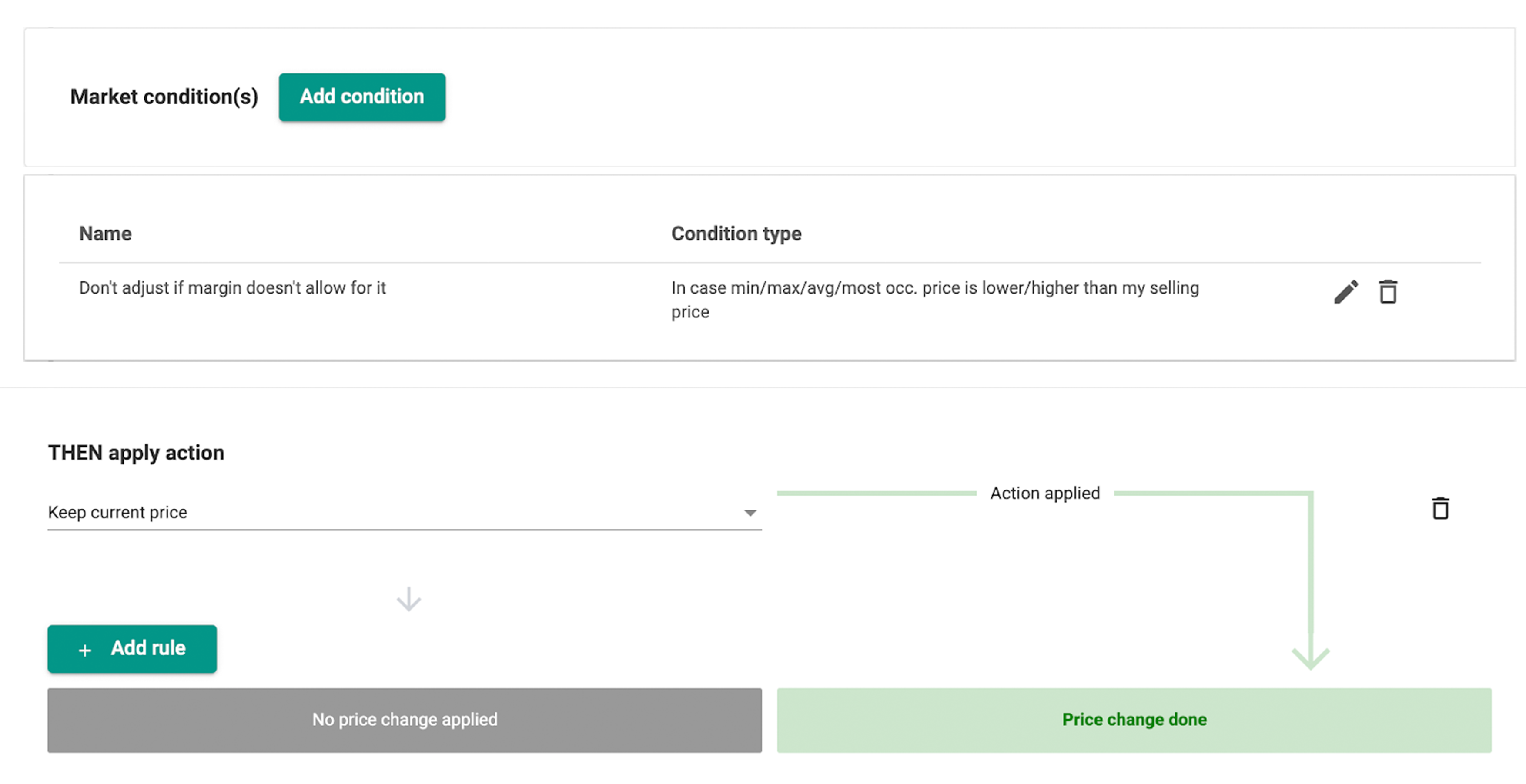 Track your progress
It's always important to track the impact of your pricing strategy changes on your performance in terms of sales and gross margin, and price-ratio vs the market. That is why the Omnia platform brings all of those metrics together in the Performance screen. In these inflationary times with margin pressure and increased importance of pricing, tracking these metrics is more important than ever.

Summary
While inflation undeniably puts retailers and brands in a very challenging position, understanding and using the full capabilities of a dynamic repricing software can help soften the blow. Combining careful analysis of competitor and consumer behaviour with granular pricing strategies will give you the best chance of walking the fine line of staying competitive in a highly dynamic market while ensuring the profitability of your business.