Voice commerce is impacting retail and e-commerce
When the phrase "Hey, Siri" was first announced with Apple's launch of its virtual assistant in 2011, not even the most forward-thinking of retail experts could have predicted how the virtual assistant known for answering trivia questions and setting an alarm clock would impact e-commerce later on. Since Siri's advent, she's been joined by Amazon's Alexa, Samsung's Bixby, Microsoft's Cortana and Google Assistant, and as a group, the global voice recognition market is estimated to be valued at €25.9 billion by 2026. According to a study by Price Waterhouse Coopers (PwC) and Statista that asked about preferences on search and shopping behavior, it was found that 71% of people would prefer voice search over traditional search by typing in the search term and 32% of US consumers own at least one voice-activated speaker. It is fair to say, then, that this growing trend of how consumers shop in the digital age is something that brands and retailers should be learning more of so that they can cater to the evolving methods of the modern-day shopper. We take a look at voice search and how it has begun to impact not only the world, but the industry of retail.
Who and what is driving voice search?
PwC conducted a survey looking at the impact of voice assistants on consumer behaviour and found that specific age groups and devices are leading the way in voice search. The 18-24 and the 25 - 49 age groups show the highest usage in voice search, agreeing that they use it at least a few times a month. As these age groups - better known as Generation Z and Millenials - grow into their consumer roles, they're also inadvertently showing retailers what they should be focusing on in terms of future shopping methods and habits. They are not only aware of voice search; they are driving its growth and usage. In addition, smartphones are on the top of the list of devices used to activate voice search.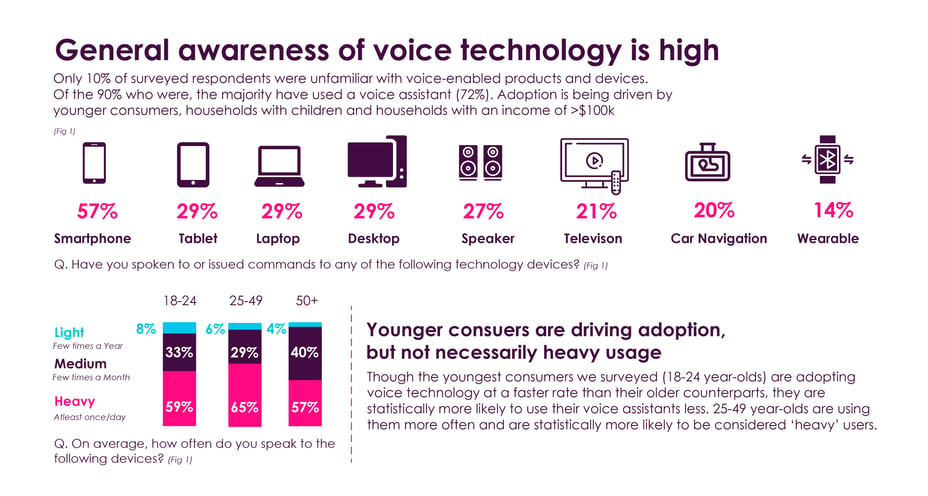 Finding your voice in the online shopping journey
Although statistics are showing impressive numbers that are growing daily, voice search is still an evolving trend that includes AI and machine learning (ML) to improve usability and searchability. As it currently stands, voice search is mostly used for queries, checking the time or weather, or Googling a general knowledge fact. However, using voice search for the purpose of shopping is surging, with Amazon Pay listing "faster way to shop" and "able to purchase in the moment" as the second and fifth most common reasons people use voice search respectively.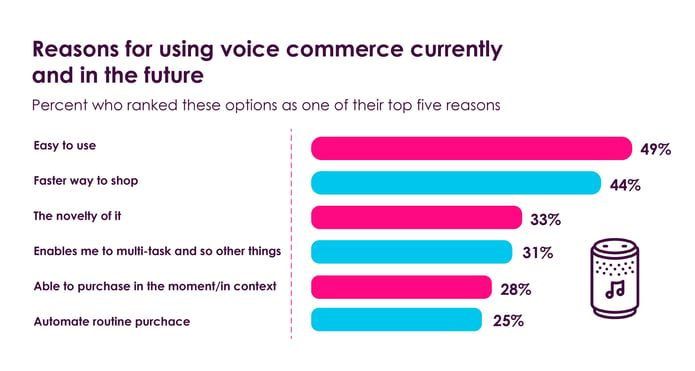 Statista forecasts that by 2023, the global voice assistant e-commerce transaction value will be at €18.3 billion and due to Covid-19 lockdowns, voice commerce in the US surged by 72%. Other activities surrounding voice commerce that are becoming common include setting purchase reminders, browsing for new products and creating shopping digital shopping lists.
Amazon Echo, the smart speaker from e-commerce giant Amazon, is the leader in voice speaker commerce, but despite their massive hold within the market, there are still some challenges with voice commerce: Understanding voice searches and properly storing card information and processing payments. A quarter of online shoppers in the US select these two recurring problems as concerns over voice shopping.
Although the technology is always improving, it will take time for voice search to become a trusted, mainstream method of shopping. Take note that the same was said for online shopping less than a decade ago, in fact, the technology is developing so fast that voice assistants are in most European cars today and are becoming more integrated with our smart home devices than ever before. In a world becoming touchless, voice will become the control centre - it's the most natural evolution.
Optimising omnichannel and online stores for voice search
With the simple fact that the average person can speak approximately 150 words per minute, but can only type 40, it begs the question of if the speed in which people can voice search and shop can impact an e-commerce sales boom. By simply telling your virtual assistant to search for "black gym shorts", you're presented with a number of online retailers within a few split seconds. Voice assistant technology is able to combine your keywords, your location and your past searches to offer a number of options, and this presents a huge opportunity for brands and retailers, if they can first establish brand or product loyalty. However, this doesn't mean online stores shouldn't or wouldn't have to do the work of optimising their websites for voice search. In 2019, 42% of the global online population made at least one purchase per month using voice search, and that number has surely grown since the technology used to power voice search keeps improving.
Online stores need to gear their website's content to fit what people may search - this,

online retailers have always known. But how does a brand optimise their online store for voice search? It's easier than it sounds:
A brand's SEO strategy should include long-tail keywords. The average voice search is between three and five words, but traditional, written searches are shorter than that. When people search by speaking, they generally give more detail, so think of it as if you were asking a store salesperson back in the 90's.


Use question-and-answer formatting. Research shows that people often phrase things in a question when using voice-activated speakers or virtual assistants. To provide key information about their products, online stores can use this format to improve their Google ranking and ultimately their website traffic. For example, a shopper could voice search, "Hey Siri, what sizes do Under Armour have in black gym shorts?"


Use conversational language. This will require retailers to do some research and to find a tone that fits in with their brand, but shoppers using voice search will likely talk in an informal, relaxed manner: "Hey Google, I'm looking for an electric toothbrush; one recommended by dentists."


Make your website mobile-responsive. At a majority of 55%, internet traffic is mostly coming from mobile phones and, as mentioned previously, 57% of Gen Z and Millenials are using their smartphones to activate voice search over any other device.


Be detailed with your geographical location and information. For omnichannel local businesses, voice search could be a game-changer for website traffic. In the US, 58% of people who use voice search are looking for a local business.


Attract repeat customers. If a retailer's shopping app is voice-search optimised, a customer could set up a weekly or monthly shopping list of staple items and simply say, "Hey Siri, place order and pay for my shopping list in my Amazon basket." The ease of this saves customers time and effort - which has fast become the main reason why people shop on an app.


Ready, set, go...
Generally speaking, most online stores could be doing more to ensure their website is optimised towards voice commerce. However, retailers and brands are not in the dark regarding what consumers expect from them when they do a voice search.
According to a Google study of voice-activated speaker owners, 52% of them want deals, sales and promotions; 48% want personalised tips and information; 42% want information on upcoming events and activities; 39% want easy access to business information like trading hours and phone numbers; and 38% want access to customer support.
This possibly serves as a helpful starting point for how online stores can enter the market of voice commerce without feeling like they need to re-develop and re-code their entire website. While for now it won't replace any direct method of purchase it certainly is becoming a part of the shopper marketing journey, retailers should be enthusiastic about the development of voice commerce as another venue of revenue.
In fact, just ask Alexa if it's a good idea.