Amazon is an incredible platform on all fronts.
With a massive reach (to the tune of 47% market share in the US and UK and 31% market share in Germany), it's an incredible outlet to showcase products, earn more sales, and build brand awareness.
But Amazon is also an overwhelming online platform for Sellers and consumers alike. With so many options for how to shop, sell, advertise, and win on Amazon, it's no wonder there are lots of questions.
In this guide we'll answer some of the top questions we hear about Amazon and give helpful hints on how to succeed on the platform.
Comparison shopping:

What is a comparison shopping service?

Comparison shopping websites are tools that consumers can use to find the best price on a product they want. With a comparison shopping service, consumers can simply search for a product, and the website will automatically compare prices for that product.
How do price comparison
websites work?
Comparison websites gather data from e-commerce retailers.
Most comparison sites (like Google Shopping) have a mutual relationship with those retailers; if retailers want to appear on Google Shopping, they need to A) place marketing bids for their products and B) provide accurate product information to Google. This data can be supplied via a direct API or via large spreadsheets.
How do I compare products from different websites?
To compare products from different websites, navigate to a comparison shopping engine site like Google Shopping or CamelCamelCamel. Once there, you can search the product as you normally would and can see different price comparisons across various retail outlets.
Best comparison shopping engines, websites, and apps.
Some of the more popular comparison shopping engines, websites, and apps include:
What is Amazon Marketplace?
Unlike Google Shopping, Amazon marketplace is not a comparison shopping engine. Instead, it's a full marketplace where different Sellers offer products and compete across several factors to earn sales.
Amazon's marketplace is lucrative. You can see statistics about the top selling businesses on Amazon in this top Amazon marketplace sellers list. The top three marketplaces with the most top 1,000 Sellers are the United States, the United Kingdom, and Germany.
Interestingly, the US and Germany both showed growth (year-over-year) in the number of Sellers in the top 1,000. But the UK lost 29 Sellers from the top 1,000, a total of 15%.
Is Amazon better than eBay?
Amazon and eBay are two very different marketplace models. Amazon is a retail website where Sellers compete for sales. Sellers control the selling price of products and are responsible for adjusting prices accordingly.
Conversely, eBay is an auction-based platform where consumers have power over product prices. eBay customers look for rock-bottom prices and tend to be more price sensitive than Amazon customers.
Amazon's marketplace is much more advanced than eBay's, and it offers more merchant support through its fulfillment services, customer service, and extensive transportation networks. Amazon also has more than double the users of eBay, meaning Amazon can open more doors to potential sales.
Amazon vs eBay fees
Amazon is notorious for charging fees, and in this sense, it's much cheaper to sell on eBay than it is to sell on Amazon. But there are trade offs to consider: selling on Amazon gives you access to more consumers, better transportation networks, and a different target audience.
So while selling on eBay is less expensive initially, Amazon's perks may make it a smarter sales outlet for your business.
How do you sell on Amazon?
Is it easy to sell on Amazon?
Getting started selling on Amazon is fairly easy. All you need is a business address, tax information, and some products to sell.
What is a good product to sell on Amazon?
When it comes to choosing the type of product to sell on Amazon, not all categories are the same. Some of the top selling categories on Amazon are:
Toys and Games
Electronics *
Cameras
Video games
* (though this niche is highly saturated and elastic. Amazon is also introducing several own-brand products in this sector)
When it comes to choosing a product to sell on Amazon, think about the category and do some research on how that category reacts to market changes. Some catetgories also change over the course of the year due to retail seasonality. The category you sell in could be extremely profitable, or it could be oversaturated.
You can also use a tool like Jungle Scout to discover products that have a lot of searches, but relatively few Sellers. This "low-hanging fruit" might make a great category to compete in.
Amazon categories list
When it comes to the Amazon catalog, consumers can find just about anything they like on the website. There are 20+ categories that Sellers can operate in, regardless of whether you're a Professional Seller or an Individual. These "open" categories are:
Amazon device accessories

Automotive and powersports

Baby products (but not apparel)

Electronics and accessories

Health and personal items

Software and computer games

Tools and home improvement

Video games and video game consoles
There are some stipulations on these categories: in many of them you can freely sell for new items, but not used ones. This is to ensure quality, safety, and legality of the items.
To see the full list of rules and regulations, visit the Amazon site here.
What are Amazon gated products
Amazon has some understandable limits on which categories sellers can participate in without any verification or certification.
These are called "gated" categories, and there are 10 in total that only Professional Sellers can access. These include:
Business to Business products

Industrial and scientific

Shoes, handbags, and sunglasses
To request approval for these categories, you will need to contact Amazon directly.
How much does it cost to sell on Amazon?
To get started, you need to choose how to sell your product on Amazon: as a Professional or as an Individual.
The Professional plan lets you sell an unlimited number of products for a $39.99 monthly fee. Individuals can sell on Amazon for $0.99 per item sold.
There are other fees that Individuals and Professionals must pay per item sold. These include:
Referral fees
Shipping fees
Closing fees
Your fee structure will depend on the type of store you build on Amazon. To get the most accurate estimation of how much it will cost to sell on Amazon, take a look at the Selling on Amazon Fee Schedule.
Can you sell on Amazon as an individual?
You can sell on Amazon as an individual for $0.99 per item sold. This is a great option if you're selling a small number of items at a high ticket price.
If your items sell at a low price though (say $4.00, for example), $0.99 per item sold might be an exorbitant fee. Remember that other fees will also apply for every item you sell, so consider this option thoroughly before choosing to open your store as an Individual.
How to create an Amazon account
The first step to selling on Amazon is creating an account. This is a simple and pain-free process.
To create an Amazon Seller account, start at services.amazon.com. Once there, you'll see a large yellow button labeled "Start Selling."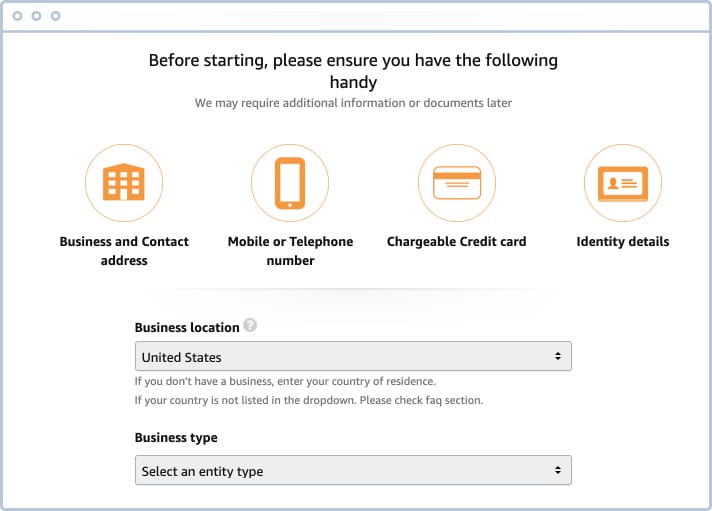 Click this button to begin the process of setting up your account. After logging into your existing Amazon account, you'll be presented with a screen asking for some basic information about your business.
After selecting your business location, you will need to select what type of business you are. Amazon gives the following options:
State-owned business
Publicly-listed business
Privately owned business
Charity
None, I am an individual
Upon providing this information, Amazon will take you through a few more screens asking about your business address, phone number, and which marketplaces you'd like to participate in. After filling in this information, you will be asked to put in your credit card information before you can continue.
You will also be asked to provide identity verification via a government-issued passport or driver's license. Be prepared with documentation of your identification.
Amazon listing best practices
When creating your Amazon listing, there are several best practices to follow. We'll cover these in further detail, but a short overview of Amazon's best practices and policies means your product listing should:
Have a great product title
Use images and other media
Add bullet points and compelling product descriptions
Include the brand name
Incorporate keywords
Amazon FBM vs. Amazon FBA
Getting products to customers fast is one of the easiest ways you can create a satisfying experience. Because of this, how you fulfill your orders is a logical place to start your Amazon strategy.
Amazon Sellers have three options for fulfillment:
FBS (also known as FBM)
SFP
FBA
FBS/FBM stands for Fulfillment by Seller or Fulfillment by Merchant. If you select this option, you will be responsible for packaging and shipping orders, as well as processing customer support issues and returns.
SFP stands for Seller Fulfilled Prime. This is a program that lets you deliver products directly to Prime members from your own warehouse. Amazon will help you fulfill these orders through its transportation networks. SFP is great for sellers who specialize in larger items like furniture. With SFP, these sellers can still get their products in front of Prime members, but don't need to go through the hassle of shipping the product to an Amazon warehouse first.
Finally, FBA stands for Fulfilled by Amazon. In this program, sellers send their products directly to Amazon warehouses. Amazon takes over packaging, shipping, customer service, and all other touchpoints.
When it comes to the Buy Box, Amazon favors FBA products over FBS or SFP (though SFP products are more likely to win the Buy Box over FBS Sellers). This is because FBA reduces the risk of a poor customer experience. When Amazon takes over the process of fulfillment, the company can almost guarantee fast delivery, quality products, and stellar support.
You can obviously choose the fulfillment plan that works best for your business. If you are the only person selling a certain product, FBA may not be necessary to win the Buy Box.
Amazon fulfillment costs
If you choose to use FBA, be prepared to pay fulfillment fees. These fees cover the cost of storing items at a fulfillment center, shipping items to customers, and providing customer service to customers.
Amazon fulfillment can be expensive, but the company has a flexible rate structure though so there are fulfillment options for every Seller. You can choose to pay fulfillment fees by unit sold or on a monthly payment based on the amount of warehouse storage space your product occupies. Prices vary depending on your operating country, but you can get more information about the pricing structure via Amazon itself.
Amazon fulfillment number
If you have questions about Amazon fulfillment and would like to get in touch, the Amazon customer service hotline number is 00 1 206-922-0880.
How much is Amazon express shipping?
Amazon express shipping can cost a consumer as much as $10 per item. In the UK Express Delivery costs £6.49 per delivery (for £4.49 if you're a Prime member). In Germany, Express Delivery costs €9.99 (€5 for Prime members).
| Country | Express delivery cost | Prime member price |
| --- | --- | --- |
| United Kingdom | £6.49 per delivery | £4.49 per delivery |
| Germany | €9.99 per delivery | €5 per delivery |
These rates may vary depending on item, stock levels, time of delivery, and more.
Managing your delivery time
Delivery time is a critical metric for your performance on Amazon. Since Amazon wants to provide the best customer experience possible, it tries to give customers accurate estimates of when a product will arrive at its destination.
Delivery time consists of two parts:
Handling time: the estimated time between when a customer places an order and when a Seller hands the package to the delivery service

Transit time: the estimated amount of time for the carrier to deliver the package to its destination.
Both Amazon handling time and transit time are calculated in business days.
You can manage and modify your delivery time in the General Shipping settings of your Amazon Seller Central account.
How to calculate an Amazon referral fee
You can calculate your Amazon referral fees with the referral fee calculator.
Amazon Seller information
Amazon Seller conversion rate
Your conversion rate is the percentage of clicks your ad or listing gets that convert to sales. It is hard to determine a "good" Amazon conversion rate because conversion rates vary between different product categories.
Amazon product ads conversion rate
Even though it's difficult to pin down a benchmark, a good conversion rate to shoot for is somewhere between 10% and 15% for non-Prime members. The average conversion rate for Amazon Prime members is even higher, around an astonishing 70%.
These numbers are exceptional, especially when compared to the average e-commerce conversion rate of 1%-2%.
Amazon Seller eligibility
Most categories on Amazon are open for anyone to sell in, but some require additional approval. The categories that require approval (like collectible items, jewelry, watches, and fine art, for instance) are sensible: Amazon wants to ensure authenticity before putting the product on the market.
Amazon codes and IDs
For most products, the most basic thing you need to be eligible to create a product listing and get started selling is a Global Trade Identification Number (GTIN). GTINs can be 8, 12, 13, or 14 digits long and are constructed with several pieces of information from your company and product.
The most common GTINs on Amazon are:
GTIN-14: GTIN-14s are the 14-digit variant of a GTIN code.
UPC: UPC stands for Universal Product Code. It's "a barcode symbology that is widely used in the United States, Canada, Europe, Australia, New Zealand, and other countries for tracking trade items in stores." UPCs are 12 digits and are different for every product.
ISBN: ISBN stands for International Standard Book Number. This is a unique 10-13 digit code for every book that is sold commercially. Publishers are responsible for purchasing and administering ISBNs for books they publish. If the code includes the letter X, be sure to include the letter in your listing
EAN: EAN stands for European Article Number. These are 13-digit codes that are printed on products and which include a country code. These are only used in Europe.
JAN: JAN codes are similar to EANs, but they stand for Japanese Article Number. These 13-digit codes are only used in the Japanese market.
If you are a new seller on Amazon, you will need to buy UPC codes. You can do this through GS1, the international governing body that distributes these codes. You'll need to fill out a short application that asks questions about your business and products. To get started, visit GS1 directly
Amazon product code search
You can use ASINs or UPC codes to search for items on Amazon. All you need to do is type the code into the search bar and click the magnifying glass to search.
Basic business information
In addition to these product codes, you'll need to provide legitimate business information such as an address, phone number, credit card, email address, and tax information. You'll also need to provide appropriate identification, such as a passport or a driver's license.
Amazon Seller ID search
Your Amazon Seller ID is an identification number given to you by Amazon.
To find your Seller ID, go to your Account Information in your Seller Central portal. Select "Your Seller" profile. Your Seller ID will appear as "Your ID"
Amazon Seller SKU meaning
SKU stands for Stock Keeping Unit. This is an ID code that helps sellers track their inventory. SKUs have a 40-character limit, but sellers can use this space any way they like to create codes that help them stay organized. Amazon sellers must create SKUs for every product they list.
Amazon Seller third party software
Building a winning pricing strategy on Amazon comes down to two steps:
Understanding your competition
Repricing efficiently
If you can successfully automate these two steps, your store will largely manage itself. There are several third-party softwares designed especially for Amazon Sellers that can help automate these actions.
Amazon competitive intelligence
To know how much you'll charge for a product, you need to know the average market selling price. You can then build a strategy around what your competitors price for the same product, then adjust your price accordingly whenever you need.
Sounds simple, right? Well, in reality this process is exceptionally difficult, starting with simply collecting the right data you need.
If you have one product on Amazon, it might be possible to follow the market by clicking refresh and tracking the insights in a spreadsheet.
Once you get beyond a few products though, you need a tool to help you keep track of your competitors and their prices.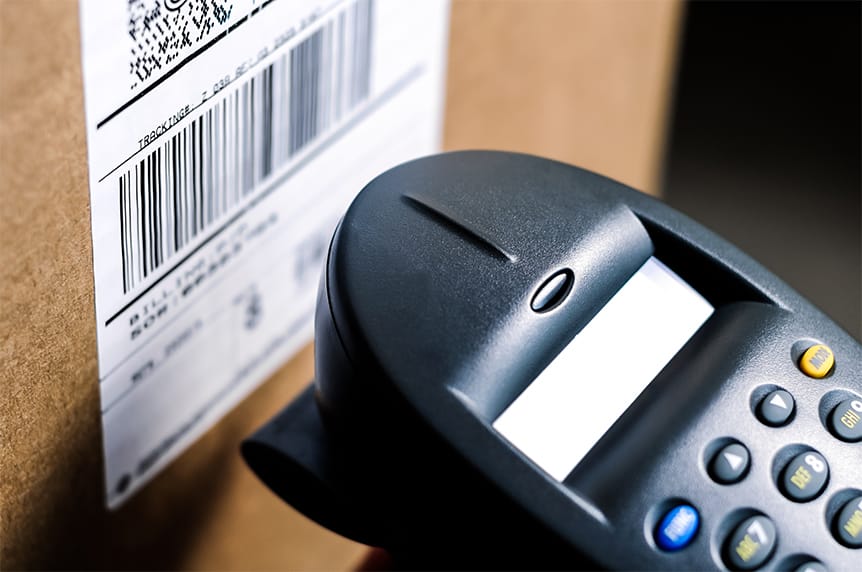 These tools are called competitive intelligence tools. They are advanced algorithms that gather the prices of your competitors several times a day then return that information to you. Like Pricewatch, The algorithm does this by scraping Amazon for the product price.
Competitive intelligence tools are practical for several reasons. They let you follow market prices for several products and are completely automated. You don't need to do anything to get the information you need. The algorithm will automatically gather intelligence for you. This means you aren't chained to your computer waiting anxiously for the next price update.
With competitive intelligence, you can also start to understand your competitor's strategies. If you track historical data, you can see that competitors might drop prices on Wednesdays or Thursdays each week, and can start to ask why that might be the case.
This knowledge gives you the chance to build a proactive pricing strategy that accounts for known changes in the market. In this case you might also want to drop your prices to eliminate the chance that your competitor takes the Buy Box.
Amazon repricing software
Gathering competitive intelligence isn't enough. You need to react to the changes of the market to stay in the Buy Box. And the more products you have, the more difficult it is to manually update your prices to keep up with amazon and your competitors
Repricing software will typically gather competitive intelligence for you. It will then take this information and calculate a new price for your products based on that intelligence.
In essence, it's dynamic pricing specifically for Amazon.
Amazon does offer its own free repricing tool called "Automate Pricing," but the general consensus is the flaws in the tool far outweigh the benefits. One of the most restrictive limitations of the tool is that you can't use Automate Pricing to increase your price. Once you get into the Buy Box, Automate Pricing stops repricing your product.
You can learn more about the pros and cons of Automate Pricing in the video below:
Because Amazon's tool is sub-par, you might want to look at Amazon-specific repricing tools. Amazon changes frequently and is an area that requires specialization on the vendor's part. Other dynamic pricing tools help manage omnichannel influences like the RoPo effect through connections to electronic shelf labels and are great for traditional e-retailers with a brick-and-mortar presence.
There are several services out there who specialize in maintaining your prices on Amazon. Some companies who make these softwares include Bqool, RepricerExpress, and Profitero. As always, all the rules of what to look for in a dynamic pricing solution apply when looking for repricing tools.
Amazon repricing strategies
There are tons of different strategies you can adopt to reprice on Amazon. One popular one is called a high runner strategy, and it's the strategy that Amazon uses itself.
Developing a strategy comes down to your company goals. Here are 5 tips to build a successful repricing strategy:
Define your commercial objective
Build a pricing strategy
Choose your pricing method
Establish pricing rules
Implement, test, and evaluate the strategy
You can also implement different pricing tactics like charm pricing, a high runner strategy, or a more complex omnichannel strategy.
Amazon Featured Merchant
If Pro Sellers meet certain requirements, they can become Featured Merchants. This status helps improve visibility for your product listing and also means you can win the Buy Box.
To become a featured merchant, you should:
Use Fulfillment by Amazon (FBA)
Price competitively
Keep a steady stream of sales
Have a well-stocked inventory
Get great reviews
Have an Amazon-compliant account
The first 30 days as a Seller are important to reaching the Featured Merchant status. Amazon expects you to achieve high marks during this period. More than anything though, just follow Amazon's guidelines and suggestions and avoid breaking any of the rules.
Amazon merchant support
The quality of support merchants can expect from Amazon varies greatly, and the general sentiment is that Amazon could stand to improve its overall merchant support. As a huge organization there is a large network for support, and some teams have access to more information than others.
| Amazon Seller support can | Amazon merchant support does not |
| --- | --- |
| Help you log into your portal | Reinstate suppressed ASINs |
| Help you upload inventory feeds and navigate the portal | Solve Buy Box issues |
| Give answers to general account questions | Handle product review issues |
So, if you have general account-related questions, calling Amazon's support number may prove useful.
But if you have questions about something specific occuring on the "business" side of your account, the best way to find an answer might just be to Google it. Amazon has created a large forum where Sellers from all over the world can answer each other's questions, and it's an invaluable resource. These topic threads generally appear as the first several results for any Amazon Seller-related question you search.
To access the threads, you will need to sign into your Amazon Seller account.
Amazon merchant fulfilled fees
Fulfillment by Amazon comes with additional fees. These cover storage of products, packaging and shipping costs, and the cost of customer support.
You can choose to pay FBA fees per product sold or pay a monthly fee to Amazon to "rent" out floor space in the company warehouses.
These fees vary by country. You can learn more about FBA fees for:
How to add a new product to Amazon
After signing up for an Amazon account, you'll need to add a product to the catalog. This process is also easy, though the first few uploads might be a bit tricky. Once you get the hang of the product upload you should speed through this process.
Creating a listing: how get a product on Amazon
There are two ways to add products to Amazon: bulk uploading via a .csv file, or individually through Amazon's interface itself. In this amzSection we'll explain each method.
Bulk uploads
If you have hundreds of products, it's most efficient to upload them to Amazon in bulk. This is easy to do as long as you have Microsoft Excel and all your product information handy.
From the Amazon Seller Central, hover over the "Inventory" tab and select "Add Products via Upload." This will take you to the uploading center.
You can't upload any type of inventory file into Amazon because it may not have the correct information or layout for the system to process the data. So to make it easier, Amazon has created file templates that you can download based on your category type.
To access these templates, click the "Download an Inventory File" tab. Choose the types of products you want to sell from the available list, then click the "Select" button to add the product type to your upload template.
After choosing your product categories, you'll then need to choose the type of template you want to download. You have three options:
The Lite template contains only the necessary information for your upload file and listing
The Advanced template contains every possible attribute you could use for the listing
The Custom template lets you pick and choose which attributes you'd like to use
If you want to keep things simple, choose the Lite template, as it contains the bare minimum information needed to get your product on the marketplace. However, the more information you provide about your products, the better they tend to perform on Amazon.
After choosing which type of template you want, click "Generate Template" and download the file to Microsoft Excel. Now you can start populating the file with product information and photos.
See how to bulk upload items yourself in this Amazon Seller University video
How to write a product description on Amazon
The elements of your product listing (degree of text match, price, availability, selection, and sales history) determine whether it appears in the correct search results.
The "degree of text match" refers to your product description and Amazon product information.
The product description is vital for driving sales and improving conversions, and there are a few best practices to keep in mind.
1 Optimize listings for search
The first important part of your product descriptions is to optimize them for searchability. This means including relevant information and keywords.
Make sure your listing includes brand name, product line, materials, key features, product type, color, size, and quantity.
Amazon title optimization
Your title is the first step to optimizing your listing for Amazon success. Amazon suggests the following guidelines:
Fewer than 80 characters
Title cased (first letter of each word capitalized)
Use numerals
Only use real words, not symbols or other characters
Avoid subjective words or phrases like "best seller"
Include necessary punctuation
Abbreviate measurements
Remove mention of merchant names
If a product comes in different sizes or colors, this information should be included in titles for the different child ASINs, not in the main title.
Be sure to include keywords as well so consumers can easily find your product. You can also add keywords to the ASIN catalog to help promote the product. These keywords are hidden from customers.
2 Add bullet points
Bullet points help shoppers get the information they need quickly.
Skubana analyzed the top 3,000 ranked product listings on Amazon to identify what these Sellers were doing that landed their products consistently in the top of the search results. They found that powerful bullet points were an essential part of the equation. The average number of bullet points for the top 3,000 product pages on Amazon was 4-5 bullets.
Amazon suggests keeping bullets less than 1,000 characters in total. Longer lines of text may get cut off and require that users click "read more" to get the information.
3 Add images (here's how to add images to your Amazon product description)
Photos are incredibly important to your Amazon listing. Often, photos do most of the selling for you by showing the quality of the product and creating trust.
If you're using the bulk upload option, you can add product images in the "Images" tab of the Excel workbook. For smaller uploads, you can add images to your Amazon product description in the "images" tab of the "Add a Product" tool.
No matter how you upload them, make sure that your images are high-quality and show the details of the product. It's best if they are on a white background or show the product in use.
Best practices for images on Amazon
According to Amazon, images should be 1,000 pixels or larger in either height or width and must not exceed 10,000 pixels. Amazon also cannot support animated gifs of any kind. Images should be clean, high quality, and clutter-free.
The main image is the image that appears in search results, and Amazon has strict quality requirements for this image. Main images must:
Display on white backgrounds
Be free of watermarks
Contain only one image
Occupy at least 85% of the frame space
Be high-quality and not pixelated
Feature the product only, no people (unless it is adult clothing items)
Show standing models, if the category is adult apparel. Babies are the only models that may sit
Show the complete product without any cropping (unless the product is a jewelry piece)
Not contain product packaging
Not contain visible mannequins (except for socks or stockings)
Another important requirement for the main image concerns children. For children's and baby's swimwear and underwear products: main product image must not feature a model.
If you are already an Amazon Seller, you can read the Amazon knowledge base article about image requirements here. You'll need to be logged into your Seller Central account to access the information.
Why is my product not showing on Amazon?
If your product is not appearing in the Amazon search, there could be a few root causes.
To start, Amazon may be suppressing your listing. Amazon may do this if something about your product description doesn't meet the marketplace's quality standards.
Some examples include product listings that:
Don't have a main image
Don't have a detailed product description
Don't have a category type
Don't have a short enough title (try to keep it around 80 characters)
Luckily, this is somewhat easy to fix. In most cases the error means there is something wrong with a product listing.
To see if Amazon is suppressing your listing, go to the "Inventory" tab of your Seller Central portal and click "Manage Inventory." If a listing is suppressed, you will see a button next to the listing that says "Suppressed." Click the button and edit the listing to match Amazon's standards.
How to group Amazon orders
Have you ever ordered something from Amazon, just to realize you forgot one small item an hour later? When you order the new item, you might be surprised that it arrives at your house in a completely separate package, even though it was only purchased 30 minutes later!
There are several reasons why products from Amazon come in multiple boxes. To start, parts of your order may be fulfilled from different fulfillment centers. Another option might be that one or two of your items are out of stock. You also may have purchased an item that's not fulfilled by Amazon itself, but is instead fulfilled by the merchant.
In any case, Amazon tries to combine orders into one package when possible. If you want to be extra eco-friendly though (and don't mind waiting a few extra days for your products), you can always adjust your shipping preferences and tell Amazon you'd like to receive as few packages as possible.
What is manufacturer part number in Amazon?
A manufacturer part number is a number manufacturers assign to different parts of a product. Manufacturers assign these numbers to mark where a component of a product originated.
What percentage of Amazon customers leave reviews?
Roughly 10% to 20% of Amazon buyers leave a review, according to most Sellers. This can vary on category though, and it may be more difficult to get reviews when you first start selling.
Does Amazon do price match?
Amazon does not offer any sort of price match policy. It also does not offer any sort of price protection policy. While it used to have a policy that honored the lowest prices found online, the reality is the market has become too dynamic to sustain this sort of initiative.
Amazon: A truly international brand
Amazon currently operates in 18 countries, with a 19th opening in the beginning of March 2020. The current countries of operation are:
USA

United Kingdom

Spain

Japan

Italy

Germany

France

Canada

India

Mexico

Brazil

China

South Korea

Thailand

Taiwan

Australia

Singapore

United Arab Emirates

Amazon Netherlands
Amazon Netherlands
The newest addition to the Amazon family is Amazon Nederland, which is set to open its doors in March of 2020.
It's still unclear how this will affect the entire market of the Netherlands. Unlike previous markets it has entered, Amazon does not have the first-mover advantage, and online shopping in the Netherlands is already advanced.
Additionally, as an especially well-developed e-commerce market, most Dutch consumers already have their favorite online stores. According to Simon Kucher & Partners, 44% of Dutch consumers will only buy from Amazon if the price is 10% lower (or more) than their favorite local hero.
The biggest change that Amazon may bring to the Dutch e-commerce market is an increased pressure on price. The company is notorious for its constant flow of price changes, and you can expect that trend to expand into the Netherlands. To succeed in this new environment, dynamic pricing will continue to grow in importance for Dutch e-commerce retailers.
According to e-commerce expert Rishi Kartaram, Amazon will enter the Dutch market in three stages.
First, Amazon will offer absurdly low prices to drive a race to the bottom. This move will drive the market down and increase price pressure on Dutch competitors like Bol.com and Coolblue.
Second, Kartaram suspects that Amazon will limit access to the platform for Dutch suppliers.This will effectively increase competition on the platform from different European nations.
Finally, Amazon may offer rock-bottom introductory prices for Amazon Prime subscriptions. As one of the main engines of driving Amazon customer loyalty and increasing overall spending on the platform, this strategic play will let Amazon capture early adopters of the platform and build consumer trust.
Our analysis of Amazon's first day in the Netherlands shows that Amazon is clearly deploying a localized pricing strategy. On its first day in the Netherlands, products 7% more expensive on Amazon.nl than they were on Amazon.de.
The analysis also uncovered that while Amazon had a lower price for many products than Dutch retailers, the price difference was negligible. Amazon.nl's prices were only 3% lower than Dutch retailers' prices.
Final thoughts
Amazon's dominance is undeniable, and the platform offers untold opportunities for Sellers and consumers. With smart strategies and a focus on providing the best customer experience possible, Sellers can achieve great sales through the platform.
Like this article, but still want to learn more about Amazon? Check out our other blogs about Amazon!