Are there any brands you used to love as a kid that are no longer around? What about brands that have lasted from before your childhood until the present day? Looking at the differences between these long-established brands and the ones that didn't last can offer valuable insight for today's brands: How do you become and stay relevant long into the future? What is the difference between Nokia or Blackberry, who were extremely popular in the early 2000s in the mobile telecommunications category but couldn't evolve to keep up with the market, and Apple or Samsung, who are the current market leaders to this day?
In this article, Omnia identifies some key lessons to be learned from established brands that have stayed relevant over time, as well as highlighting some real-world success stories.
Lessons from established brands that have managed to stay relevant
1) Be intentional about your pricing and discount strategy
Different brands will approach pricing in different ways, as they should – each one is different. Think of a luxury brand selling high-end clothing: Customers go to this brand with high expectations of quality and status. They also know in advance that they will pay a high price for those goods, and likely don't expect many discounts. With a low-cost brand that targets more price-sensitive consumers, however, price is the main decision factor, and discounts may be expected more often.
Both of these strategies are valid; what the most long-lasting brands have in common is that they are intentional about their pricing and discount strategy. Brands have to consider questions such as:
If you offer discounts, how will discounting impact our brand image? Will our customers see us as a discount brand? How will this impact our margins? Is it a viable long-term strategy? What else can we do to ensure our perceived value isn't tarnished, for example, better service or impressive packaging?
If you don't offer discounts, how can we promote our products without discounting? Should we offer loyalty programmes or find another way to capture data? Should we offer special services to differentiate from other brands?
There's no right answer, although it's worth mentioning that many brands who choose not to discount can stay relevant and offer value to customers through other promotions like BOGO, free shipping, money-back guarantees, bundling and more.
Let's look at two examples of long-lasting, established brands that have managed to hold onto their reputations in the market – even with different discount strategies.
Dyson
A household appliances company founded in the UK in 1991, Dyson started by making vacuum cleaners and has grown its product assortment to include hair dryers, air purifiers, bladeless fans and more. The company and its founder, Sir James Dyson, are known for their technological innovation of everyday household products.
Dyson heavily leverages brand loyalty and the company's reputation for high-quality products, which enables them to charge higher prices. While the company does offer D2C discounts on its website, the customer base is willing to pay the premium price point upfront because they know the product will last. Dyson vacuum cleaners, for example, can cost over $700, making it the most expensive vacuum on the market.
Ortlieb
On the other side, German bike wear brand Ortlieb is well-known in the market for never giving discounts. Because this is an intentional strategy, the company has used it to maintain a strong brand image, along with other benefits like a five-year guarantee, waterproof products and German manufacturing.
2) Remember the product life cycle
Successful brands have a deep understanding of their own product assortment and where each offering is in its product life cycle, or PLC. When brands strategically align pricing with each stage of the PLC, they avoid endangering revenue from retail partners and instead price alongside the market.
A brand's pricing strategy over the course of the PLC may look like this: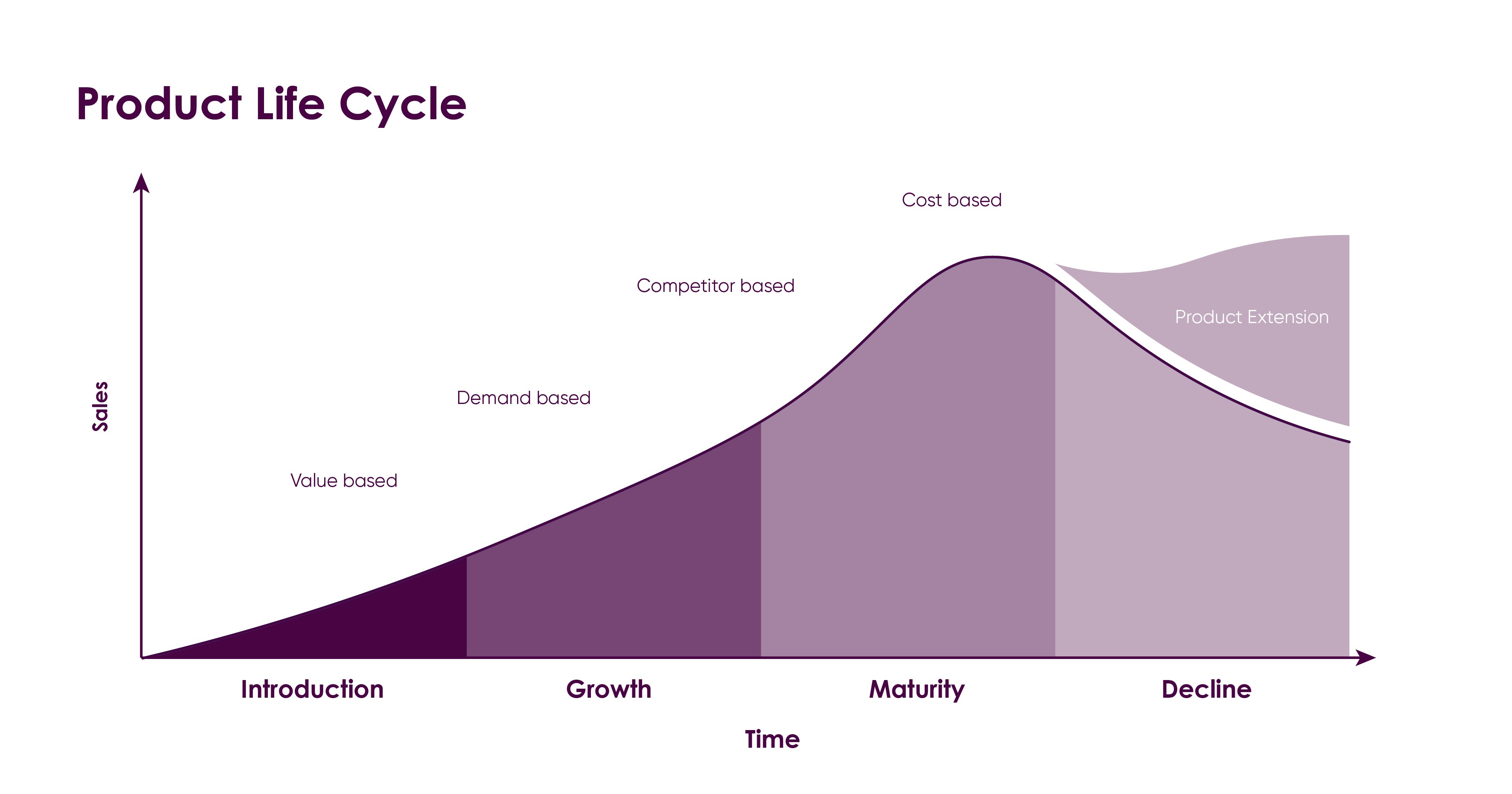 Different groups of products can then be priced according to their stage in the cycle. For example, the maximum discounts set by the brand will likely rise over time and be highest during the decline stage, as the brand sells off product to make room for new assortments.
The PLC can also guide distribution strategy. Many brands may want to sell older products through retailers and keep the newest collections on their own D2C channels, enabling the brand to focus on those new product lines.
3) Be careful about competition with your retailer network
Many successful brands use a combination of D2C sales and retail partnerships, whether they started with traditional retail strategies and added D2C or vice versa. This is an effective strategy to diversify sales and reach new customers, but it's important to mitigate the risk of competing with your retail network.
There are a number of factors to consider here. One way to avoid competition is by differentiating product assortments between D2C channels and retail. Research from McKinsey shows that brands who get their product assortment right achieve higher sales, better margins, more loyal customers and leaner operations.
One example of this is speaker company Sonos, which launched a retail partnership with IKEA in 2019. Sonos developed a line of connected speakers just for IKEA that blended into the home environment: One as a lamp and one as a small bookshelf. The product line is only offered at IKEA, and while it maintains some core benefits of Sonos – high-quality sound and the ability to control through an app – it is differentiated from core D2C offerings, lessening the risk of competition.
Sonos VP of brand and marketing Pete Pedersen said this about the partnership:
"The best partnerships are always those rooted in respect, admiration and complementary skill sets. IKEA has been a terrific partner and we couldn't be happier with the collaboration. Together we've pushed boundaries on form factors, materials, packaging and go to market strategies. IKEA's massive global presence has also helped bring Sonos into many new territories where we might not have otherwise been."
It's also crucial to be cautious and avoid competing on price. Successful brands don't undercut their own distributors and resellers. For example, if a brand drops a price on any of its products in D2C channels, its retailers will probably follow. Instead, brands that stay relevant aim to keep a good balance; staying up to date and matching prices in the market, but also avoiding sending prices "to the moon". Dynamic pricing software is key to automatically adjust pricing across channels based on predefined pricing strategies and rules.
4) Build a brand image that reaches different generations
To stay relevant as a brand, companies have to build a brand image that resonates and lasts. This means not only building up a culture and community around the brand through marketing, but also ensuring that the younger generations, who will become top spenders soon, continue to find the brand interesting. If a brand relies on the first generation of buyers it has, even if it was highly successful with those buyers, then eventually its customer base will age out and there will be no one left to replace those sales.
What kinds of marketing tactics can build up a relevant brand identity that reaches younger generations? Let's look at Gen Z specifically as an example. This set of buyers expects brands first and foremost to act and market based on their values. Nearly half of Gen Zers say that a brand "appearing trustworthy and transparent" motivates whether they engage or not. Language, acronyms and jokes that are relatable in the present moment are also important, although pushing too hard on this can feel inauthentic or even cringe-worthy. Other marketing tactics that work for Gen Z: Influencer marketing, funny or entertaining campaigns and TikTok videos.
Fenty Beauty, Rihanna's beauty brand, is a great example of building a consistent brand image that grows with its customers and reaches younger generations. Fenty ran a campaign to find a model for a 2023 campaign and asked customers to submit their own content using the hashtag #TheNextFentyFace. This turned every customer who posted into a micro-influencer, while also building up Fenty's own image as a brand for everybody.
5) Use the right technology
Of course, to remain relevant, brands must keep up with current technology and evolve the customer experience over time. Some older brands have a hard time adapting to changing times and technologies, but those are typically the ones that don't last.
Established, relevant brands use technology to build best-in-class online and omnichannel experiences:
Personalisation: Utilise technology to gather customer data and preferences, enabling personalised shopping experiences. Implement recommendation engines that suggest relevant products based on customer behaviour, purchase history and demographic information.
Mobile optimisation: With the increasing use of mobile devices for online shopping, it's crucial for e-commerce brands to have a mobile-friendly website and dedicated mobile apps. Optimise the user experience for mobile devices to ensure seamless navigation, quick loading times, and easy checkout.
Artificial Intelligence (AI): This is especially top of mind in 2023 with the rise of ChatGTP and other large language models. Brands can leverage AI to automate and enhance various aspects of the e-commerce business. Use chatbots or virtual assistants to provide instant customer support, automate customer service inquiries and offer personalised recommendations. AI can also be used for inventory management, demand forecasting and dynamic pricing.
Social Commerce: Leverage social media platforms to drive sales and engage with customers. Use technology to enable social shopping features, such as "buy" buttons or in-app checkout options, allowing customers to

make purchases directly from social media platforms

.
Data Analytics: Brands that stay relevant capitalise on all customer data available to them, gaining insights into shopping patterns, preferences and trends. Use advanced analytics tools to optimise marketing campaigns, personalise offers and identify new opportunities for growth.
It's crucial to stay updated on the latest technological advancements, industry trends and available tools. Any brand not paying attention to these may find itself quickly irrelevant.
Maintaining customer trust = maintaining relevance as a brand
At its core, brand relevance is about winning and maintaining the trust and loyalty of customers over time. To do this, a company must build up its brand reputation and network of retail partners, intentionally choose its pricing and assortment strategies, utilise the right technology and continue to offer clear value to the customer.
Do all of this while staying true to your mission, values and who you are as a brand, and you might just be the established brand we're all using as a success story 10 years from now.