We all experienced the sudden, dramatic shifts in retail during the first year of the COVID-19 pandemic. Stores shut down, sales shifted online, and the number of ecommerce companies globally (excluding China) grew to 12 million. Large retailers and marketplaces saw significant increases in sales as customers searched for places that offered a wide variety of products in one place. Amazon, for example, saw sales increase by 57% during the second quarter of 2020.

That was then – what about now? Today, we're witnessing a new shopping era: a landscape that built upon many of those pandemic trends, but is still ushering in a comeback for brick-and-mortar. As we forge ahead in 2023, Omnia is exploring key retail trends in this new landscape and ideas for how brick-and-mortar retailers can make the most of the current e-commerce slump.
Trends in the post-Covid retail landscape



What does this new post-pandemic shopping era look like in practice? We compiled four retail trends in 2023 that are impacting brands, retailers, and consumers alike.
1) The slowing of e-commerce and uplift for brick-and-mortar
The sudden spike in e-commerce sales in 2020, shown in the chart below, has readjusted over time. The e-commerce share of total retail fell in 2021 and 2022 after the initial pandemic jump.


Prior to the pandemic, the growth rate of e-commerce had always outpaced overall retail sales. But since restrictions started to ease and physical stores started reopening again in mid-2021, the e-commerce growth rate has remained lower than the growth of retail sales.
Meanwhile, brick-and-mortar is on the rebound. In the US and the UK, store openings are higher than store closures, with more openings than even pre-pandemic levels in 2019. Coresight Research tracked a year-on-year decrease of 55% in US store closures from September 2021 to 2022. In the UK, PwC reported a significant slowdown of closures from both before and during the pandemic, with 34 closures per day in H1 2022 compared to 61 per day in H1 2020.
Source: Coresight Research
The rebound for physical stores may be partially driven by some consumers making a conscious change. Globally, 47 percent of consumers said they were significantly more likely to purchase from brands who had a local presence.
The strength of brick-and-mortar is expected to continue: Forrester research predicts that in 2024, 72 percent of US retail sales will still happen in-store.
2) Inflation may put a dent in sales volume, but it's increasing the nominal value of sales
With inflation hitting 40-year highs in 2022, many customers faced the challenge of wage increases not keeping pace with rising prices. People prioritised essentials over non-discretionary items, while also feeling the hit to their overall purchasing power. According to a Deloitte consumer survey, the share of respondents intending to delay large purchases has been steadily increasing since mid-2021.
But even if this puts a dent in retail volumes, high inflation has also increased the nominal value of sales.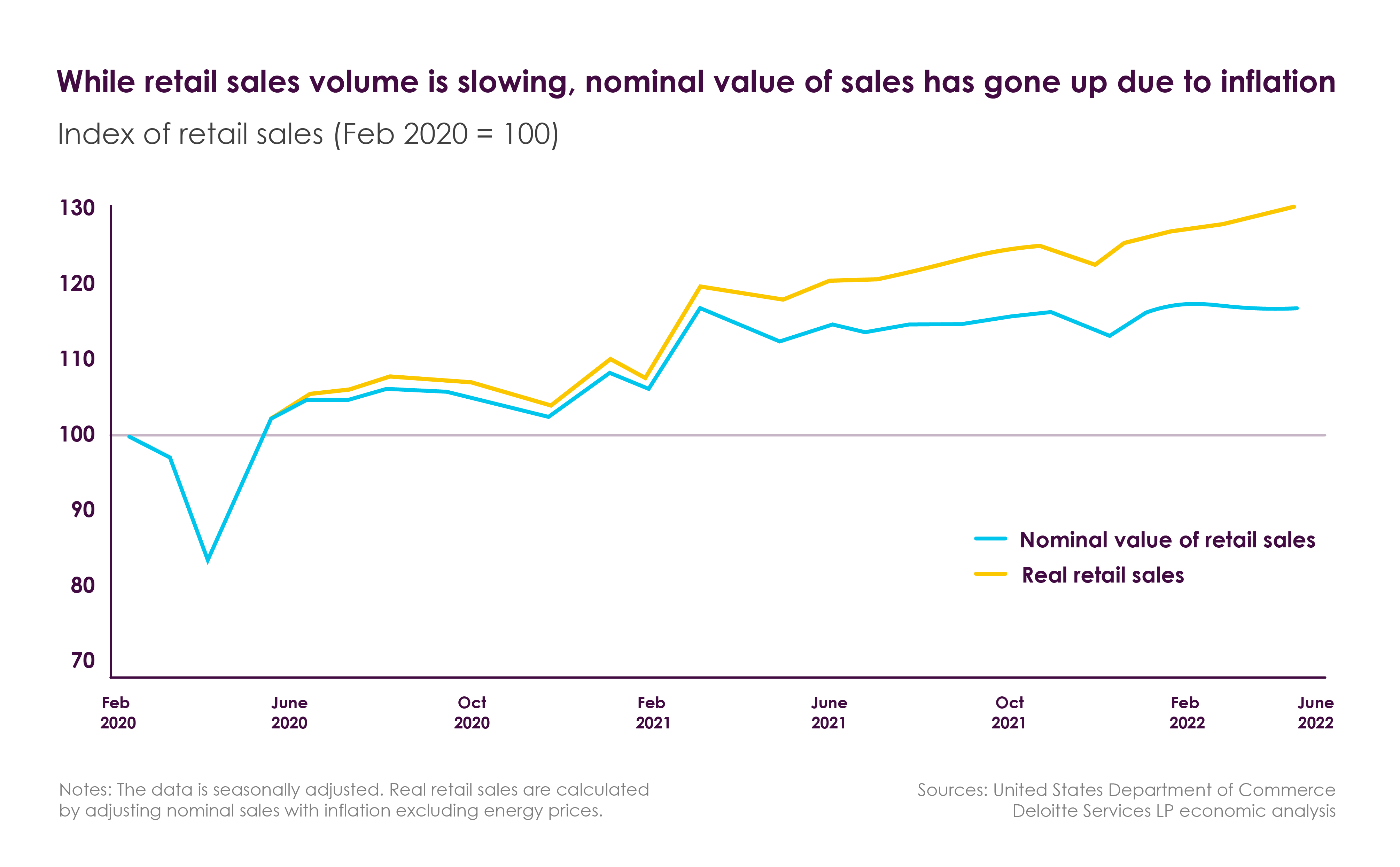 Source: Deloitte
This chart shows nominal retail sales vs. real retail sales since February 2020, with the two breaking apart starting in March 2021 due to the impact of inflation. Even though retail sales are down by 0.1% since that month, nominal sales have gone up 9.4%.
3) Brands are reclaiming control in e-commerce and DTC is growing
Back on the e-commerce topic, another trend in this new shopping era is about big consumer brands reclaiming control. We're seeing brands more frequently choosing to cut out retailers and intermediaries, instead selling direct to consumer (DTC) online.
Why are these brands choosing to get more involved in their e-commerce efforts? A variety of reasons: it gives them more control, allows them to cut out non-value-added-retailers, and enables them to handle the volume of work and competencies they must fulfil.
According to Dirk Hoerig, co-founder and CEO of commercetools,
"The major downside of reliance on wholesale—or marketplaces, for that matter—is the watering down of the brand experience… Until a few years ago, most brands simply accepted this situation as a cost of doing business. Then, when the pandemic drastically weakened foot traffic to brick-and-mortar retail stores, many brands were pushed to invest heavily in their websites and other channels like social media that allowed them to sell directly to consumers. Now that they've seen the benefits of DTC sales—including stronger customer relationships and wider profit margins—they don't want to go back."
One example of this is Nike. In February 2022, news broke that Nike would be sending less inventory to Foot Locker stores – its closest retailer relationship – in favour of expanding DTC sales. During their fiscal year ending May 31, 2022, NIKE Direct (the DTC brand) generated $18.7 billion USD of revenue, more than double that of FY2017.
And they're not alone. Growth in traffic to DTC sites is higher now than pre-pandemic – not the case for e-commerce, which has adjusted itself after the pandemic spike.
4) Owned sales channels creating competition with a brand's retailers
Brands today have sales and distribution channels ranging from their own webshops to retailers to marketplaces and platforms like Amazon
However, having an omnichannel strategy including these owned sales channels does create an extra challenge. Brands stand in competition with their own third-party retailers when both are selling the same product.
We're seeing brands grapple with finding this balance. Not only are they needing to watch their retailers, but also their own retail strategy and prices to find the optimal mix.
It's because of this trend that Omnia Retail is placing more and more focus on dynamic pricing solutions for brands and DTC. Learn more about our pricing solutions for brands here.
How can brick-and-mortar retailers make the most of the e-commerce slump?
Amidst all these changes, there lies a significant opportunity for brick-and-mortar retailers to use their current momentum and capitalise on the slowing of e-commerce.
We saw above some of the evidence of this e-commerce "slump". Another indicator is the rise in layoffs. Amazon, the biggest name in e-commerce, announced 18,000 planned job cuts in January 2023. Meta, the parent company of Facebook and Instagram and the biggest name in social e-commerce, laid off 13% of its workforce in November 2022 – the first time they've had to contend with layoffs in 18 years.
What does all of this mean for brick-and-mortar stores? It means now is their time to shine, if they can effectively capitalise on the situation. Here are some ways physical retailers can stand out and compete for customers' spending:
Provide unique in-person experiences

–

After the pandemic, the value of in-person experiences cannot be overstated. Consumers want to get back to physical stores again. Remember: 47 percent of consumers

said they were significantly more likely to purchase from brands who had a local presence. Brick-and-mortar stores can host events, personalise the shopping experience for each visitor, or even partner with other businesses to create something brand new.





Remove friction in the buying process –

It's commonly said that online stores are where shoppers go for convenience. Brick-and-mortar stores that can remove friction in the buying process – i.e. make it simpler for people to buy from them – can capture business from customers who still want convenience but want to shop in person. For example: Offering a variety of payment options, an intuitive store layout, additional SKUs available for delivery or pickup, etc. And don't forget to remind shoppers that when they buy in-store, they can have their products

now

instead of later.





Embrace omnichannel strategies –

Brick-and-mortar doesn't have to mean

only

in-person shopping. For instance, brick-and-mortar stores can also offer online ordering with in-store pickup, deals on social media for in-person shopping, and more.




Talk about sustainability

–

Shopping at brick-and-mortar retailers can reduce waste from shipping and packaging, something that is especially important for Millennial and Gen Z shoppers who see

environmental issues

as extremely important.
What comes next?
Retail is always changing, and the post-pandemic trends we're seeing now will continue to evolve in the coming year. But if current trajectories continue, brick-and-mortar stores have a unique opportunity to stage their comeback.
E-commerce growth rates are slower than the growth of overall retail sales. Layoffs among tech and e-commerce companies are not letting up. And nearly half of all consumers want to buy from brands with a physical presence in their area.
With more and more brick-and-mortar stores opening every day compared to recent years, customers have plenty of options for in-person shopping. The question that remains is where they will choose to spend their money.