When it comes to online shopping, bundle pricing is ubiquitous. This pricing method is extremely popular amongst Internet retailers, and for good reason. Competitive bundling is an excellent way for you to push more product, stand out from the crowd, and connect with your audience in an intriguing way.
So what are the benefits of bundling? Keep reading to learn more about this strategy.
Bundle pricing definition
Price bundling, also product bundle pricing, is a strategy that retailers use to sell lots of items at higher margins while providing consumers a discount at the same time. With bundle pricing, retailers offer several different products as a package deal, then offer that package to consumers at a lower price than it would cost to purchase those items separately.
In the example below, which shows a Fujifilm Instax camera bundle and which sells for $99, consumers get a camera, a case, batteries, two film packs, a camera case and strap, a photo album, a self lens, colored filters, hanging frames, a clips and string to hang photos from, sticker frames, a cleaning cloth, and standing frames. That's a lot of product, especially when you consider that the camera itself costs somewhere in the realm of $60.
Bundle pricing is a great way to move products quickly, sell off less-successful SKUs, and offer more value to your loyal customers.
Bundling is extremely common in e-commerce and retail, and you'll often see product bundles on cheap goods or discount items. However, it isn't the only application for price bundling, and companies in all sectors from software to utilities (like Comcast) use bundles to sell their products.
Bundling works because price is the most important "p" in the marketing mix. Price is often the most important differentiator for consumers, and when they can get a bundle price on products they love, they will feel like they've gotten the best deal possible.
Product bundle pricing has advantages and disadvantages. On the one hand it's a great tactic to use if you want to move product quickly or give your customers a great value. However, product bundling pricing may weaken your brand if done incorrectly. It's ultimately up to you to build a great strategy that delivers value without hurting your image.
What is an example of bundling?
Bundles are everywhere in retail and e-commerce. They are most common in discount stores or amongst cheap goods, but luxury brands may also run promotional bundles on occasion.
However, bundles are especially important to Amazon's strategy, and the online marketplace makes great use of bundles (which you can learn about in our guide to selling on Amazon). There are countless Amazon bundle examples, so it's easy to dive in and look at what works.
In general, there are two types of bundles on Amazon. The first is a Seller-created bundle, like the one in the photo below. This bundle is built around one high runner — the Nikon camera — which is then sold with 22 other "accessory" items like camera straps, memory cards, lenses, tripods, flash devices, and more. It's the perfect kit for someone who enjoys photography enough that they're willing to invest in equipment, but who doesn't already have everything a professional may want.
An Amazon bundle example built around one major high-runner item: a Nikon camera.
The key to this bundle is that it is a great deal for consumers. It would take countless hours to find all of these items separately, and it would likely be more expensive to purchase each accessory individually. With this bundle, which costs $619, a consumer can be ready with their complete camera kit within two days. It's the kind of bundle that will leave an amateur photographer with sweaty palms and a thumping heart as they click "Add to Cart".
The second type of product bundling strategy on Amazon is the kind suggested by the marketplace itself. In the image below you see an Amazon listing for a Magic Bullet blender, which costs $38.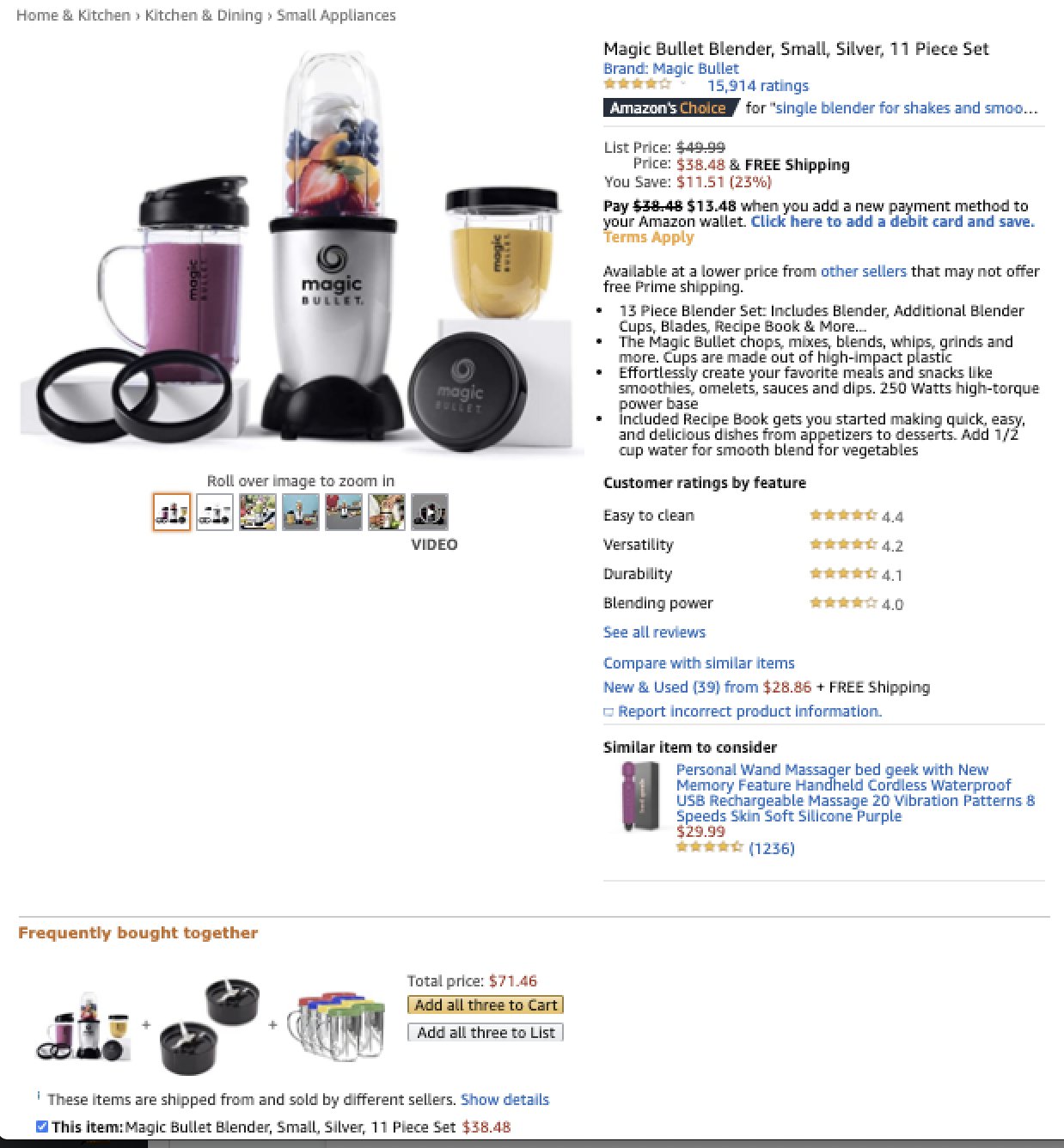 In the bottom left hand corner of the image though, you'll see a section on the page titled "Frequently bought together" which suggests two additional products to the consumer. This section is the Amazon-suggested bundle, which uses Amazon's algorithm to determine similar products and suggest them in the same post. In one click, the shopper can easily add all three items to their cart and know they're getting everything they could possibly need for this blender.
This suggested bundling isn't only for small electronics. In the screenshot below of a listing of a MacBook computer you can see that Amazon suggests a pink laptop protector and case as an additional item.
Related: How the Coronavirus will Affect Retail
Bundles are popular outside of Amazon as well. The below bundle is a great bundle pricing strategy example. It is from the company Alpkit, which makes outdoor gear in the United Kingdom. This bundle is built around the idea of a "mountain marathon", which is, as you may have guessed, a marathon that takes place on mountain trails.
An example of a bundle in the outdoor clothing category. This bundle includes two coats, gloves, socks, a shirt, and waterproof running pants.
Mountain marathons require special technical gear because weather conditions can change so quickly out in the wild. Many races require that you bring things like gloves, jackets, and trousers with you as you run, but this technical gear is often extremely expensive. Some runners will acquire these pieces over time, but some of the individual pieces can create a significant hurdle to investment (like the rain jacket in the above bundle, which costs €120).
Alpkit solved this problem with a smart bundle that includes much of the gear you would need for a trail race. This kit not only moves products out of Alpkit's warehouses — it also saves the consumer €98.
How to create and use price bundles
To create effective price bundles, you need to get into the mind of the consumer. What are they really looking for, and how can you give them more value with a bundle?
So what can we learn about bundling from Alpkit and the other examples we've seen in this article? A couple of things:
Understand what your users are looking for, whether that is a camera or mountain running clothes

Use a high-runner item as a centerpiece

Fill in the gaps with simple accessories
Product popularity data (which you can get with Pricewatch) is a great resource for creating effective bundle packages because you can understand which products are flying off the shelves and which products are taking up space. If the slow-moving products complement the fast-moving ones, you can pair the two together to create a bundle that helps clear out your warehouses. This is an especially popular strategy with electronics like TVs and laptops, which will often come in bundles with charging cables, HDMI cords, and other items.
You can also create bundles of popular products, which can make your high-runners even more attractive. If you see that the most popular products in the market could combine well together, you could create a "sale" bundle of these high-ticket items and sell it at a slightly higher price than you could if you discounted each product individually. You can still discount these products individually to drive people to your store with dynamic pricing (especially if they are highly elastic products), but offering the products together gives you some room to improve your margins.
Finally, you can use bundles to give consumers more control. If you follow a "build your own package" model, you can give consumers the chance to create their own bundles from a selected assortment of products, then layer a discount percentage on top of their final choice.
Final thoughts
Bundle pricing is an awesome way to get creative with your assortment and delight consumers in unexpected ways. If you can create a bundle that meets your audience's needs and satisfies your business goals, you'll find a happy medium that pushes products off the shelf while keeping your store profitable.
Curious to learn about some other pricing strategies? Check out some of our other articles below.