Each year, avid shoppers look forward to the annual Black Friday shopping event, which kicks off the holiday gifting season, where brands and retailers reduce prices on items from electronics to jewellery to levels that inspire crowds in their thousands. Around the world, shoppers who may not be able to afford certain products, or feel that they are getting a better deal than the usual price, can now make a purchase, or a consideration at least. Consumers who find shopping for items like dishwashing liquid a tedious task may buy in bulk on Black Friday to avoid it being on the shopping list in future, which is also known as pantry loading. Whichever category consumers fall into, Black Friday attracts people from almost every socio-economic background, making it retail's favourite day of the year.
As we await Black Friday in 2022, which officially falls on 25 November, it takes little effort to see that this year's event may be quite different to that of previous years, considering record-high inflation has hit Europe in the jugular since the start of the Russia-Ukraine conflict. Despite mixed reports on how this year's Black Friday will go, Sander Roose, CEO and founder of Omnia, predicts there will still be many retailers and brands who are aggressive in their discounting strategy for the fact that they are holding excessive stock and, quite possibly, because they feel inclined to discount heavily as they know they are dealing with inflation-stricken consumers. However, some studies are showing consumers to be spending more now than before the arrival of Covid-19 as people grapple with surviving a life-and-death reality.
Let's take a look at this year's Black Friday predictions in comparison to previous years, and if high inflation is a strong enough deterrent for consumers.
Market predictions for Black Friday in 2022
London-based e-commerce researchers IMRG have found unimpressive results in their data collection. Previously, over the years, IMRG has found that Black Friday is the pinnacle of retail's fourth quarter trading period. In 2022, it is estimated that not only will Black Friday not be as abundant as previous years, growth estimates are at -5% in comparison to 2021. The clothing, home, beauty, garden and electrical markets are not expected to see any growth this Black Friday.

Other than inflation and low confidence in the economy, there's another factor influencing Black Friday spend this year - the FIFA World Cup. Some retailers predict that a global focus on the games may negatively impact shopping on Black Friday weekend, with 34% of 118 retailers thinking it will reduce shopping, according to an IMRG survey. However, if retailers and e-commerce stores are smart, especially those in clothing, sporting apparel and electronics, they should see this global event as a golden opportunity for them to curate their marketing, deals and the customer experience to include the World Cup theme.

Regarding the general feeling towards Black Friday from consumers, a survey from Zendesk gives a more positive outlook, showing that 4-in-5 consumers are more excited than ever for this year's Black Friday and that the increases in living costs are propelling them to bigger deals and discounts. This behaviour isn't new, suggest Dan Thwaites and Patrick Fagan, who are the founders of Capuchin Behavioural Science. "A rise in stress, or mortality salience, has been equated with a rise in purchases of 'escape products' such as beer or status products like luxury watches, reflecting the thought, often ascribed to Epicurus, 'Let us eat and drink, for tomorrow we die,'" says Dan. However, consumers should be wary of spending brashly, as a new investigation by consumer watch group Which? found that 9-in-10 Black Friday items on special were the same price or cheaper in the six months prior to the shopping event.
Comparing the EU, UK and the US
Despite inflation and higher living costs, Europeans have experienced an overall increase in their purchasing power-, or expandable income, since 2021 due to the reopening of economies, businesses and tourism. GfK's study on the average purchasing power per person per year in Europe sits at €16,344 - an increase of 5.8% compared to last year. However, there are giant differences between some countries regarding their spending abilities. For example, Liechtenstein's purchasing power per capita is €66,204 while Ukraine's is €1,540, so although spending abilities have improved, not every European may be seeing or feeling it.
This is evident in the year-on-year decrease in holiday spending in specific European countries, which includes Spain, whose purchasing power was below the continental average:
Source: Statista 2022
Filip Vojtech, a geo-marketing expert at GfK predicts that the increase in purchasing power amongst Europeans may not necessarily translate to retail purchases this Black Friday and the festive season, as the uncertainty regarding inflation and high energy prices is keeping many Europeans conservative with their money. In Germany, for instance, Horizont reports that Black Friday shopping is expected to be low this year, as consumers are more interested in saving. If bargain hunters do shop, 76% of them want to place a larger focus on planned purchases and price-centred campaigns, instead of hurried buying for the sake of buying.
In the UK, the same IMRG study found that 47% of retailers believe that the stress of increased cost-of-living is enough to deter shoppers from eagerly shopping on Black Friday weekend. However, another 43% of retailers said that today's higher bills will actually pull consumers into Black Friday spending so that they can make good use of heavily discounted products. Nevertheless, the spending will be less spontaneous and more considered. In this instance, we could say that the state of consumer spending on Black Friday in the UK may look similar to Europe.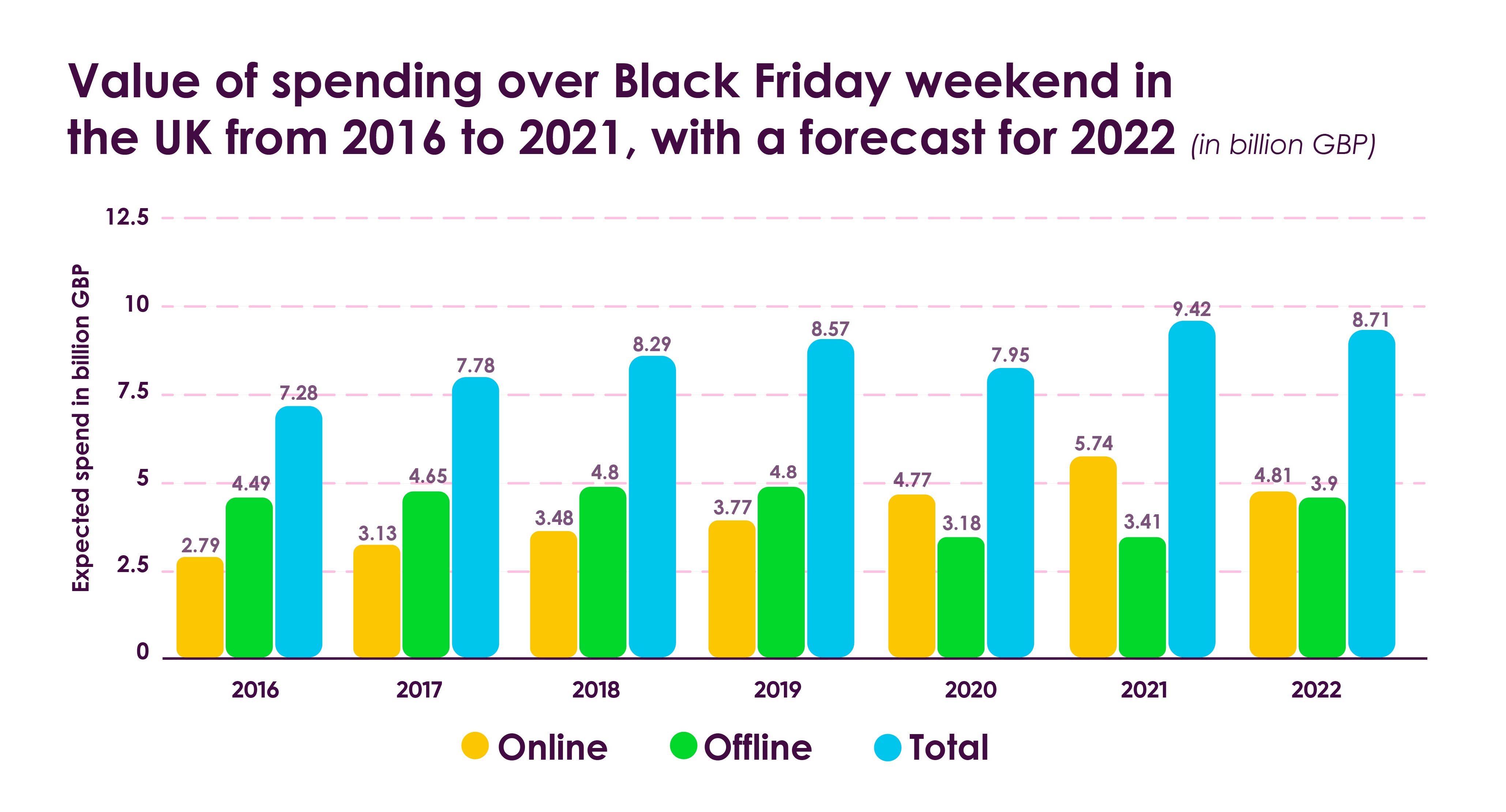 Source: Statista 2022
US consumers provide a unique - albeit complex - case. McKinsey reports that, although they are concerned about inflation and have historically low confidence in the economy at the moment, American shoppers are also showing eagerness to spend and have remained robust and confident spenders in the last few months, as retailers like Home Depot and Walmart have reported. American consumers are also expressing a higher sentiment for the holiday season this year than they have in a few years.
The Consumer Pulse Survey conducted by McKinsey shows that 55% of US shoppers are excited about holiday shopping, which traditionally begins with Black Friday, and have the savings to spend. In addition, consumers across the Atlantic are so excited about holiday spending that their usual wait for Black Friday specials is creeping back a few weeks with 56% starting their spending in October.
Black Friday: What's selling, who's taking part and who's not in 2022
Lower volume sales means bigger discounts
As Sander predicted, certain categories have experienced lower sales this year than they had planned. This is due to an overwhelming global demand starting in 2020 that retail leaders thought would spill into 2022. However, global demand for items from e-bikes to washing machines has slowed down, and retailers will be ambitious to discount considerably. Products in the luxury small domestic appliances (SDA) category, like a Nespresso coffee machine, and products in the luxury major domestic appliance (MDA) category, like a SMEG gas stove, will likely not see major sales this Black Friday, which is not surprising since their popularity this year has been lower and in decline compared to 2021. However, because their volume sales have been low this year, these are the items that retailers will be desperate to get rid of and will likely have the biggest discounts. GfK says that standard and basic SDAs like TVs and cordless vacuum cleaners, which have already received a 15%-plus price cut this year, will be the biggest targets for larger discounts this Black Friday. Products in the tech and electronics category, such as headphones, smart watches, bluetooth speakers and more, will also see the biggest discounts, as reported by the New York Post.
High-income earners won't feel the pinch
Despite 43% of global consumers believing now is the time to pull back on non-essential spending rather than jump straight in, high-income earners who aren't necessarily affected by inflation and high living costs will still continue to enjoy Black Friday spending like previous years. Premium products in the luxury domestic appliances category mentioned above will still be supported by premium buyers.
Gen Z has higher demands for Black Friday discounts
Black Friday is retail's favourite day of the year to get rid of stock at drastically low prices, however, some age groups, like Gen Zers (born 1997 - 2012), require retailers to offer a minimum of 41-50% of a discount for them to want to participate. The other, older age groups - Millennials, Gen X and baby boomers - require between 21-30% of a discount to consider shopping. This may be so for two reasons: The more obvious reason is that Gen Z shoppers are often in high school, in university or have recently entered the working world, meaning their expendable income is lower than the older age groups. The less obvious reason, which took some research on our behalf when looking at Gen Z's buying behaviour, is that Gen Zers are far less concerned with fitting in when it comes to shopping, and prefer choosing a brand that separates them from the crowd, unlike Millennial shoppers. They are also more likely to spend money on a brand that values authenticity and sustainability. Typically, it is large-scale retailers and global brands that dominate Black Friday offerings, and not the smaller, lesser-known companies who are not focused on pushing inventory and creating a product at the cheapest price possible. A product would, therefore, need to be heavily discounted for the average Gen Z shopper to consider buying it.
FOMO (Fear of missing out) and ego-boosting behaviour
From a psychological point of view, Dan and Patrick share that events like Black Friday trigger emotionally-charged consumer behaviour. We may still see confident spending from consumers who are simply shopping because they feel they might be missing out if they don't. "The thought of deals disappearing triggers this fear of loss, making us feel we have to act," says Dan. "Simply making something look like a sale can be enough to trigger the behaviour," Dan continues, such as using the colour yellow which has been studied as being an influential colour for discount offers. "Even though the product is no cheaper, people buy more. This is due to representativeness bias. If something looks like a duck and sounds like a duck, we think it's probably a duck. Same with discounts - even if they're actually not."
When one does in fact find a good deal after doing some research online, consumers tend to feel as if they have "gotten one over the store," as Mark Ellwood says, author of Bargain Fever: How to Shop in a Discounted World. "And it's also really fun. You didn't know it was dopamine surging through your brain. But you still come out of the store, and you're grinning, and you're thinking, 'That was amazing.' We should have that moment all the time," continued Mark to CBS News. This sentiment is further expressed in the academic paper "The Excitement of Getting a Bargain: Some Hypotheses Concerning the Origins and Effects of Smart-Shopper Feelings" by Robert M. Schindler from the University of Chicago who says that "Just as ownership of a product may have many different types of consequences, so also there may be different types of consequences resulting from the price a consumer pays. This includes the implications which a price may have on the consumer's self-concept. Paying a low price for a particular item might lead a consumer to feel proud, smart, or competent."
In the name of sustainability, some brands are giving Black Friday a miss
In an effort to sway shoppers from shopping in excess or to encourage them to focus on recyclable materials, some global brands are not offering Black Friday sales, while some have created their own spin on it. Ikea launched a campaign called #BuyBackFriday which asks customers to bring their used furniture for resale instead of throwing it away. Fjällräven, a bag and outdoor apparel brand, uses the event to remind people who long-lasting their products are, instead of hyping people up to buy another coat. Shoe brand Allbirds actually increased their prices on Black Friday in 2021 by $1 and gave the money from each purchase to Fridays for Future, an organisation focused on climate change. Monki, which owns H&M, will not be offering Black Friday specials at all.
Black Friday becomes Black November



To lure in foot traffic or to get rid of stock volumes; either way, global brands and retailers (both online and offline) have extended a one-day event into days and weeks of Black November specials. Globally, we see that the annual shopping event began changing years ago, with the introduction of Cyber Monday at first, and then the rapid move to online shopping during Covid-19 lockdowns.
For the first time ever, in the US, during 2021's Black Friday event, there was a decline in year-on-year growth by $100 million. This may be because 49% of consumers took advantage of the earlier specials on offer throughout the month of November, according to the America National Retail Federation. In addition, the total number of Black Friday weekend shoppers fell from 186 million in 2020 to 179 million in 2021, showing again how consumers are choosing to enjoy discounts and deals earlier on. Specifically, Target launched their Black Friday sales in mid-October - more than one month before the official event. Amazon teased shoppers with its October Prime Day, a warm-up to Black Friday. Adidas and Nike launched their strategies more than a week before the event, offering between 15-50% off.
How can retailers make the most of this year's Black Friday?
Start your Black Friday deals earlier
As mentioned above, the Black Friday festivities are beginning in early November and sometimes in October. According to a PwC study, 43% of shoppers choose the earlier Black November deals to ensure items are in stock. Another 37% shop earlier to make sure their purchases are delivered in time for the festive season; and 31% do it to avoid the large crowds.
Introduce dynamic promotions
With dynamic promotions, you are constantly (and automatically) surveying and evaluating your competitors' prices and your volume sales, even throughout the chaos of a sale, so that your promotional strategy maximises revenue, maintains competitiveness among the sea of Black Friday sales, and better moves inventory from warehouse to consumer.
Treat this year's event as a test one can learn from
Although each year is proving to be different, it would be wise for brands and retailers to look at their marketing and promotional strategies to see what worked in 2021 and what didn't. Going forward, each year should be treated as a study that can be learned from.
Optimise the in-store and online experience
In-store digital media, additional discounts for shopping online, multiple delivery options, email sign-up discounts, stock volume and delivery updates… There are many ways to help consumers enjoy their Black Friday shopping experience even further. Consumers tend to remember the brands that went the extra mile in creating a positive shopping experience.
Take the opportunity to cross-sell to increase revenue
Specifically for retailers in clothing, sports apparel and electronics, creating bundles of products that compliment each other may drive up revenue and entice shoppers to spend. For example, creating a Black Friday bundle discount on a smart watch with wireless earphones; running trainers with exercise equipment; winter coats and boots; and so on.
Lessons for Black Friday 2022
Although there are remaining questions on shopper turnout for this year's Black Friday weekend, one thing stands firm: Retailers and brands are ready to offer big discounts on sitting stock, with the largest deals taking place in the tech, electronics and domestic appliances categories. This strategy rings true across all major markets, including the EU, US and UK, despite the US showing the highest levels of consumer excitement around Black Friday shopping. In the EU and UK, inflation and high living costs remain a potential blockage for retailers to experience the shopping rush of Black Fridays in the past.