Starting Dynamic Pricing can seem a bit overwhelming. There are loads of options and functionalities, which can lead to choice overload. At Omnia, we advise users to have a clear pricing strategy before fully implementing Dynamic Pricing. This provides two important benefits:
Easier to implement

: you know what you want and how you want it.

Easier to evaluate

: if you know your goal, you can keep track of how you are moving towards that goal.
In this blog post, we will explain the five steps involved to go from a pricing strategy to successful Dynamic Pricing.
How to successfully implement Dynamic Pricing in five steps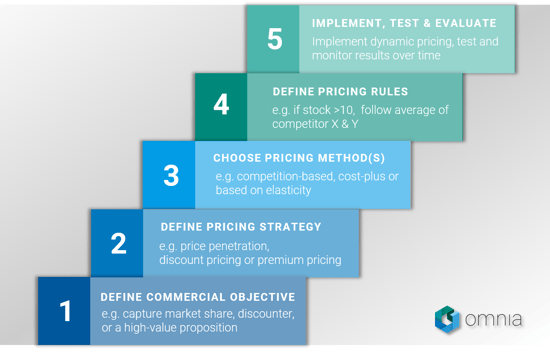 All these steps will be discussed in detail in separate blog posts. In this article we will give general guidance on these steps as an introduction and to get you started right away. First of all, this is a top-down approach: so we start on a high level (company or category) and move towards the implementation level.
Keep in mind that we would advise you to create different Dynamic Pricing strategies for different categories. For example, categories that are not price-sensitive should not have an aggressive pricing strategy, as you will lose margin and revenue.
Step 1: Define commercial objective
First of all, you should define what you would like to achieve with your company or category. Some retailers have a clear market penetration strategy to capture market share as their company objective. Other retailers offer value-added services such as free quick delivery, great customer support or long payment periods, and thus have a higher value proposition. Think about what you want to achieve as it is linked to your Pricing strategy. For example, it is not advisable to offer free value-added services with a very aggressive pricing strategy.
Step 2: Define pricing strategy

In the second step, you should formulate the Pricing strategy according to your objective. A pricing strategy is a formulation of your commercial objective in a pricing objective. It sets the right direction in terms of pricing towards your commercial objective.
For example, if your commercial objective is to increase visibility but also capture profits, your pricing strategy could be to increase visits to your store through very competitive prices on a small selection of popular products. At the same time, capture margin through higher prices on less popular products. This is known as a high-runner strategy, commonly used by Amazon. In a later blog post we will explain the high-runner strategy into more detail.
Step 3: Choose pricing method(s)
As a third step, you should choose how you will achieve the formulated pricing strategy. There are three main Dynamic Pricing methods, read about them in this blog post. Often, you will need to combine these three. Choose what is necessary to implement the chosen pricing strategy.

For instance, with a price penetration strategy you could undercut certain competitors (competitor-based), while staying above a certain margin level (cost-plus).
Step 4: Choose the pricing rules
Following on from selecting the pricing methods, we now create implementation ready pricing rules. If you choose to price based on elasticity, you let the algorithms make most of the decisions and there is less to set up in the pricing rules.
In general, there are two steps involved:
4.1) Choose the products:
Choosing the products can be anything from a category, stock, or whatever data you have. For instance: "for OLED televisions with a stock >10, apply pricing rule X".
4.2) Formulate the pricing rule
Now that we have the products, we can make an applicable pricing rule, which would fill in "Pricing rule X" in 4.1, for example: "follow average of competitor X & Y" or "price based on price elasticity".
Step 5: Implement, test & monitor
On completing steps 1 to 4 for all products under your management, you are ready to implement them into your pricing system. For validation purposes, be sure to ask colleagues to check the implemented pricing rules and make sure they match the pricing strategy and methods.
Before going live, we advise you to undertake a robust testing phase to verify you have implemented the correct Pricing settings. It is important to check whether your pricing strategy is applied correctly, so you can be sure the system is actually doing what you intended to do. A good automated pricing system should never be a black box, all decisions should be transparent in order to trust the system.
After going live, it is important to monitor the pricing strategy and evaluate if it is helping you reach your objective. If your goal is to capture more market share, but are not able to increase your volume, it might be time to re-evaluate the objective.
Final remarks
To conclude, a clear commercial strategy and objective is essential input for a good Dynamic Pricing implementation. It helps setting goals and keeping track of reaching those goals. We recommend a five-step approach to go from your commercial objective to a successful Dynamic Pricing implementation. In future blog posts we will dive deeper into these five steps. Be sure to sign up for our newsletter if you'd like to receive an update as soon as new articles are published.