Omnia Retail has been invited to join the fifth batch of startups taking part in the prestigious Lafayette Plug and Play startup accelerator, as part of its ongoing international growth ambitions. Lafayette Plug and Play is the premier business accelerator for the retail and e-commerce industries and was born through a partnership between Galeries Lafayette Group and Silicon Valley based startup accelerator Plug and Play Tech Center.
Taking place from September 3rd until November 22nd, the Paris-based event brings together the most exciting European retail startups, alongside top retailers, brands & e-merchants, in order to stimulate innovation, leads and high-growth partnerships.
Following a rigorous selection process together with 213 other applications, which included pitching to a panel of judges in Paris, Omnia was selected to be part of the next "batch" of 17 businesses taking part in a collaborative ecosystem of startups, investors, and corporations. The programme includes 50 corporate events, and 150 mentoring sessions with VC's, entrepreneurs, and retail experts. Hundreds of one-to-one meetings between startup CEOs and decision-makers at major retail brands are also arranged, in order to facilitate growth and business development.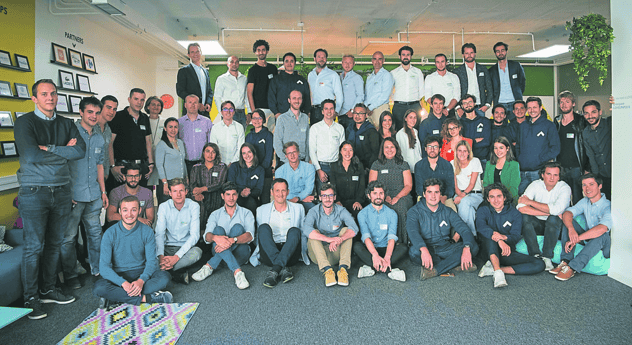 The event, which counts the likes of P&G, Carrefour, C&A, and Lagardère among its global partners, was founded with the goal of making the fashion and retail industries the most innovative in the world, aiming to stimulate the growth a business would ordinarily achieve in 12 months in just a three-month period.
Sander Roose, founder and CEO of Omnia Retail, said: "We're thrilled to have been invited to take part in the latest round of the Lafayette Plug & Play accelerator. The event is such a great fit for us because it's a truly international programme, hosting businesses from all over the world. Considering our international growth ambitions, it made clear sense for us to be involved."
"Many of the alumni businesses from previous Plug and Play incubators have gone on to see tremendous growth, and we're hopeful that we'll be able to count ourselves as yet another success story."
About Lafayette Plug and Play
As the first innovative platform fully dedicated to retail and e-commerce, Lafayette Plug and Play is a startups accelerator created by the Galeries Lafayette group in collaboration with Plug and Play Tech Center. Located in the heart of Paris, Lafayette Plug and Play aims to support the development of French and international startups disrupting retail and e-commerce, by creating an innovative ecosystem around these industries. More information on lafayetteplugandplay.com.
About Omnia Retail
Omnia was founded in 2013 and is the leading SaaS solution for integrated pricing and online marketing automation. Omnia helps retailers regain control, save time and drive profitable growth. The out-of-the-box solution optimises pricing and maximizes returns from marketing channels like Google Shopping. Omnia services more than 100 leading retailers, including Office Depot, Decathlon, Samsung, Media Market, Tennis Point, Wehkamp, and Coolblue.