We are happy to announce that we have added Hardware.info as a pricing data partner for the Netherlands and Belgium. Omnia has a direct and exclusive API connection with Hardware.info's database and can collect and update competitor data multiple times a day. Next to their unrivaled data coverage in the hardware category, Hardware.info also has deep retailers coverage in other electronics categories.
This data connection is ready to be used and can be connected within a few minutes. Please contact info@omniaretail.com for more info and a free prodcut assortment match.
Unrivaled data coverage in Hardware categories
Like the name suggests, Hardware.info specializes in hardware products: computers, components and peripherals. To provide you with an indication of the value of this data source, Omnia has compared the pricing data of over 100.000 hardware products to our current data sources.
Hardware.info got the best score on both the number of products with pricing data (90% had a match) and the average number of prices found per product (6.3 retailers), making it an ideal addition to the current data sources for the hardware categories.

Strong retailer coverage in electronics categories
Next to the hardware products, Hardware.info also scored well in other electronics categories. Hardware.info might not always have the broadest product coverage of all the data sources, but definitely has the deepest retailer coverage: averaging at around 9 retailers per product, compared to an average of 5 over the other data sources.
Adding Hardware.info as an additional data source for these categories will greatly increase the total overview of the competitor landscape and lead to better pricing decisions.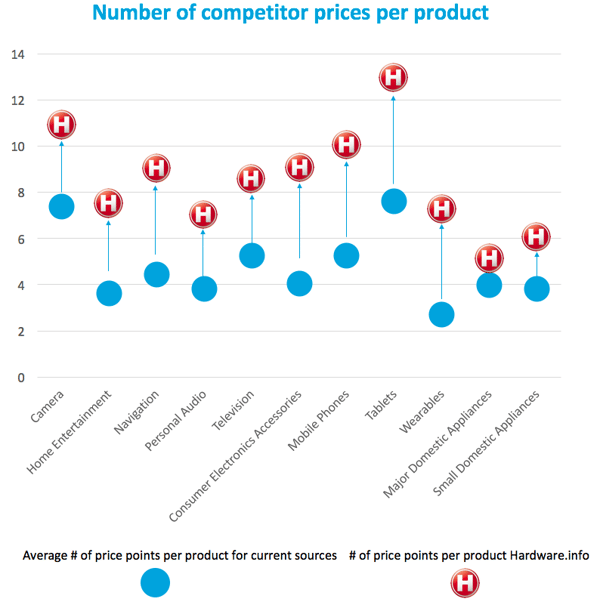 Curious in your data coverage at hardware.info?
Are you interested in comparing your product assortment against the database of Hardware.info? Please contact INFO@OMNIARETAIL.COM for more info and a free product match.