New research from the latest IMRG Capgemini eRetail Sales Index shows that British online retail sales in the first half of 2019 have slowed down...and a lack of focus on omnichannel retail strategies might be to blame.
The retail index, which tracks the online sales performance of over 200 retailers with a combined annual spend of £28bn, discovered that retail delivered a year-on-year growth (YoY) of 5.4% in the first half of this year. And while 5.4% doesn't sound low, when you compare it to last year's 16.9% YoY for the same time period, it's easy to see why the figure is so worrying.
While 2018 was a big year for the UK in terms of public events that spurred spending (such as a Royal wedding and the World Cup), the somewhat slower news year isn't the only reason for the slowdown. Consumer trust in retail is eroding as doom-and-gloom coverage of retail closures continues, and the looming mystery of Brexit plays a part in consumer skittishness.
But while you can't control Brexit or create another Royal celebration, one thing retailers can do is look at the connection between their online and offline connections.
The importance of omnichannel retail
According to IMRG, online-only retailers grew at a faster YoY than multi-channel retailers in the first half of the year (7.4% YoY and 5.2% YoY, respectively). And there are a couple of factors that influence that.
For one, online-only stores can reach wider audiences, and can stay more agile in the market than brick-and-mortar shops.
Additionally, people have simply gotten used to the convenience of ordering online, which means they might automatically go for an online-option over visiting a physical store.
But that doesn't mean that you need to close up your physical stores to accelerate your growth. As Andy Mulcahy, strategy and insight director at IMRG says,
In this country we have a tendency to regard online retail and physical retail (high streets) as being completely separate; an idea that has been fed over the past few years by the consistent growth in online even as the high street struggled. What we are now seeing is that they are not separate at all, but in fact deeply interconnected – hence growth in the first half of 2019 was the lowest yet recorded.
In other words, there is a disconnect for many retailers between their online and offline worlds. And the reality is that these two worlds are more interconnected than ever before.
Make omnichannel an advantage
If you're a multi-channel retailer, chances are you feel overwhelmed by your two different stores. And if you've seen your growth slow, your not alone.
But, if you think strategically, you can make your multi-channel store a competitive advantage.
The key with omnichannel is to see your online and offline stores as complementary parts of a whole, not competing entities. And as two parts of a larger puzzle, they can work together to help drive more sales through improved customer experience.
We've done a whole post on how to win at omnichannel retail, so if you want more specifics it's worth checking that one out. But if you want some quick tips, keep reading.
1. Remember how consumers shop
The first step to "winning" with omnichannel retail is to learn how consumers interact with your store...and remember that that interaction doesn't exist exclusively online or offline.
For example, almost 60% of American consumers use their phone while shopping in a physical store. And many of them are checking the price of the products on a shelf to the prices they find online.
Shopping today is, in itself, a multi-channel experience. Smartphones have become so ingrained in our everyday lives that it is impossible to remove their influence on the buyer's journey.
Now, this can create problems for retailers or brands. If consumers find a different price online than they see in-store, it can erode trust in the product (and company).
But it also works to your advantage if you use the power of the internet to create a seamless site-to-store experience.
2. Use technology to add value for your customers
If you want to create an omnichannel experience for consumers, you need to think creatively. But you also need to think practically. How will this omnichannel experience improve the customer journey?
When shopping for furniture, you can never tell what a piece will look like in your home until you bring it through your front door.
At least, you couldn't do that until IKEA created an augmented reality application that helps you discover which corner of your living room fits your new armchair.
The IKEA Place app is an excellent example of filling a gap in the consumer journey: one that leads consumers directly to your products.
But you also don't need to sink money into developing an app. There are also some relatively inexpensive ways to use technology to your advantage. Some ideas?
Use QR codes on physical shopping labels to provide shoppers with more product information
Let a customer add something to their cart online (or in-store on their smart phone), then allow them to pick it up in-store
Offer price-matches at the register
No matter how you go about it, remember that the customer journey today offline includes online experiences, and vice versa.
3. Invest in measurement tools
So if you use creative technology to improve the customer journey, how can you actually measure if your endeavors are increasing your revenue?
To do that, you need the right tools that can measure online and offline sales, and their influence on each other.
One example of a metric you can track to measure the influence of omnichannel is the ROPO effect, which stands for "research online, purchase offline." Measuring ROPO allows you to evaluate your store's performance holistically, and not in the traditional online/offline silos.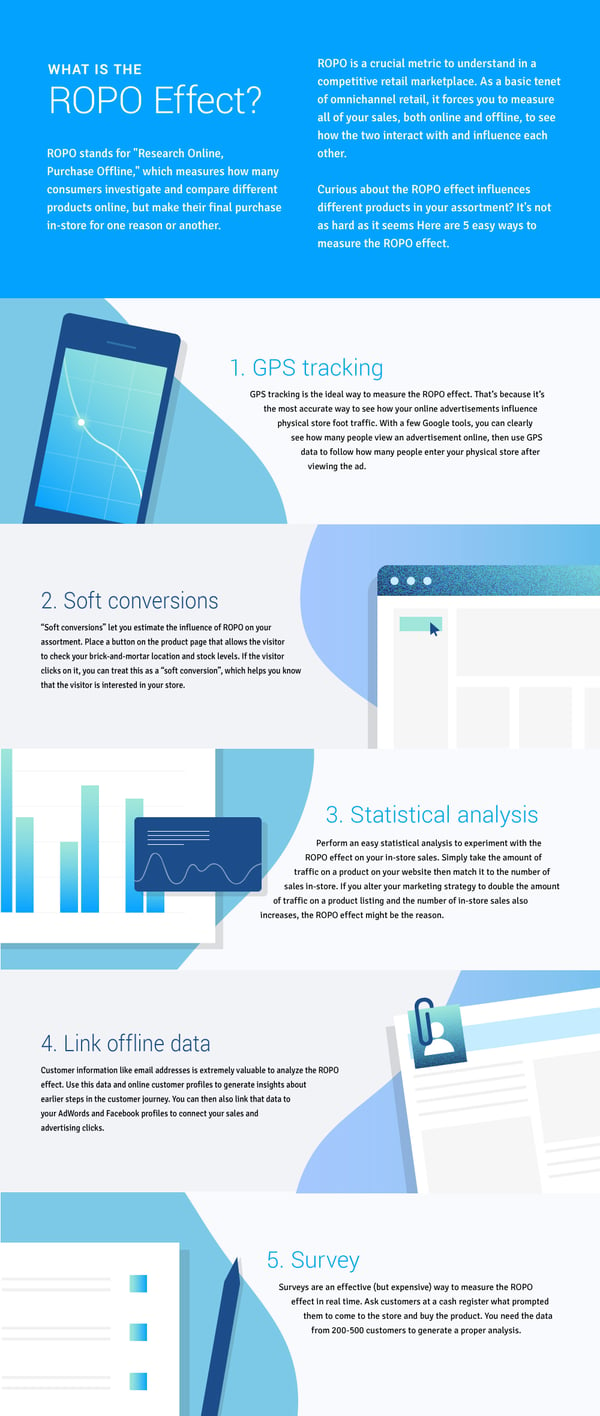 These technologies do require an investment, both in time and money. But the insights that you can glean from this sort of measurement are priceless.
Final thoughts
Even though the UK retail market slumped in the first half of this year, there is plenty of opportunity for multi-channel businesses to thrive. With the right tools and strategy, multi-channel retailers and brands can connect their two stores, get a complete understanding of their customer journey,